Dogs seized from B.C. breeder, animal cruelty charges being recommended: SPCA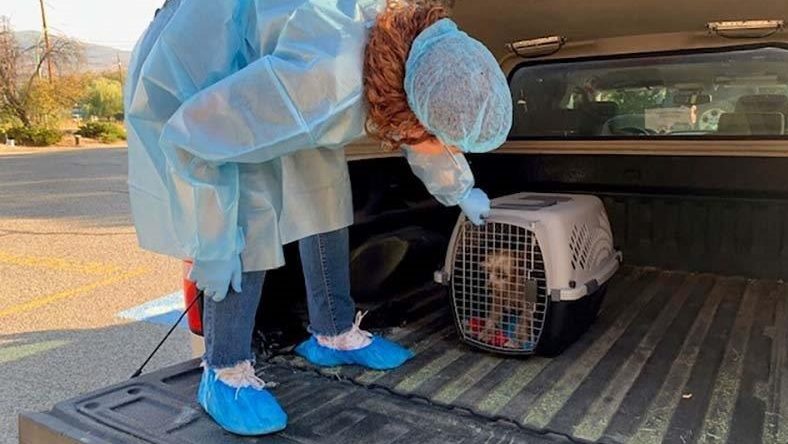 Posted September 12, 2023 10:22 am.
The BC SPCA says more than a dozen dogs have been seized from a breeder in the North Okanagan, with charges of animal cruelty being recommended.
The organization says the 16 Yorkshire terriers and one pregnant Pomeranian were "in distress, as defined by the Prevention of Cruelty to Animals Act."
The dogs, aged between two and 10, were suffering from "badly overgrown nails and severely matted coats, which were covered in burs, damp, and had a distinct smell of ammonia from being soaked in urine," the BC SPCA says.
---
---
"Our officers were shocked at how poor the living conditions were for these dogs," said Marcie Moriarty, chief protection and outreach services.
"When they arrived on site, they visited the area where the dogs were being housed. The ammonia smell from the urine was overwhelming. The dogs were being kept in dirty crates that were caked in urine, feces and vomit. We have reason to believe the dogs had not had access to any drinking water since the day prior and the only food available looked very old. The room they were in was dirty with soiled newspaper strewn around and different objects blocking access to the dog crates."
The organization says the older dogs had "very poor dental conditions," while one of the canines was also "carrying an untreated groin injury."
The dogs have since been taken to a veterinarian, and are expected to be treated before they are put up for adoption.
---
---
Moriarty says the COVID-19 pandemic prompted a surge in demand for pets like dogs, leading to "an explosion of new dog breeders hoping to cash in."
Not all of those breeders, however, followed the right practices, she adds.
"Now that this demand has lessened, the BC SPCA, and other animal welfare agencies across the country, are seeing record high numbers of dogs entering our care from situations like this," she said. "Our shelters are bursting at the seams and it's extremely disappointing to see. There is no excuse for animals to suffer due to unscrupulous breeders who put profit before animal care."