Police raid Vancouver mushroom, illicit drug dispensaries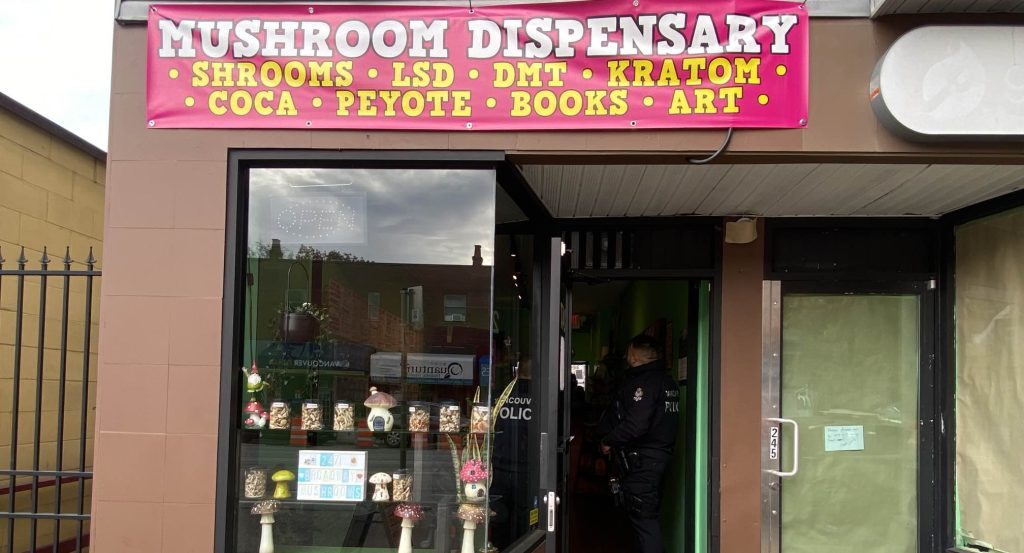 Posted November 1, 2023 1:16 pm.
Last Updated November 1, 2023 8:29 pm.
Vancouver Police Department officers executed search warrants across the city Wednesday, raiding mushroom dispensaries and storefronts that police say sell illegal psychedelic drugs.
The VPD says it searched retail storefronts in Marpole, Mount Pleasant, and Strathcona, seizing controlled substances that it claims were being bought and sold in "bulk to walk-in customers."
"We have been clear that anyone who breaks the law by illegally trafficking controlled drugs and substances could be arrested and charged with a criminal offence," Sgt. Steve Addison said in a statement. "This includes people who traffic drugs for profit from unlicensed and illegal retail businesses."
The VPD says the warrants are "part of an ongoing investigation" and charges will be considered once the investigation is complete.
"Psilocybin is a controlled substance under the federal Controlled Drugs and Substances Act (CDSA). Although exemptions exist in British Columbia for people who possess and consume drugs for personal use, it is illegal to traffic psilocybin and other psychedelic drugs unless an exemption from Health Canada has been obtained, for example, for a clinical trial," the police said.
In a news conference Wednesday, Addison says he understands that there are people who are not supportive of the police's raid, and there may be people who are "ideologically opposed to the enforcement action we've taken."
"Perhaps there are people who believe that these substances should be legalized. The fact is, the reality is, these substances are not legal, they are controlled drugs and substances under the Controlled Drugs and Substances Act," he explained.
"We are a country of laws and it's our role as police to uphold the laws and make sure the laws are enforced."
Vancouver Police did not share the quantity or types of illicit drugs that were seized during Wednesday's search warrants or if anyone was arrested.
However, Addison did confirm the raids are not at all related to recent warrants executed at the Drug User Liberation Front offices and residences earlier this week.
CityNews has reached out to store owner Dana Larsen for comment.
–With files from Srushti Gangdev and Cole Schisler