Global Affairs Canada says 234 Canadians and family members left Gaza on Sunday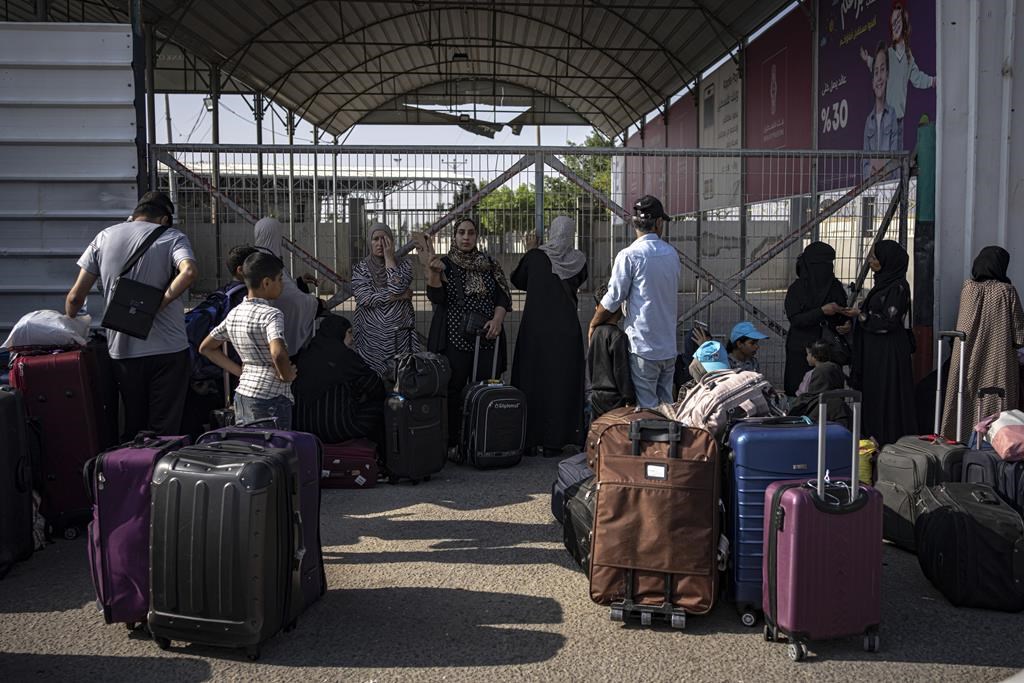 Posted November 12, 2023 1:01 am.
Last Updated November 12, 2023 2:54 pm.
Global Affairs Canada says 234 Canadians, permanent residents and their eligible family members have crossed from Gaza into Egypt on Sunday.
The update comes as the Rafah crossing reopened after a two-day closure, allowing foreign nationals to flee the war-torn territory.
A London, Ont. woman whose father tried to flee the besieged Gaza Strip six times said he was finally able to make it to safety on Sunday.
Dalia Salim says her 66-year-old father crossed the border Sunday with her uncle, who is a U.S. citizen.
I'm so relieved, I have the biggest weight lifted off my shoulders," Salim said in a phone interview.I'm still hurting for my people and my country … but on a personal level, I'm just really glad that my dad is safe."
Salim said her father retired last year and was spending time in Gaza with his aging mother before war broke out between Israel and Hamas last month. He had unsuccessfully tried to cross the border five times before finally making it out on Sunday.
Salim said she wishes her extended family was able to leave as well, noting her father was feeling hurt about leaving them behind.
"I know he was a little hesitant to leave, because I'm sure he felt so guilty that he is the one with a privilege to get out because he has a passport, while everyone else has to endure … the hunger and the living conditions, no access to water or food," Salim said.
But not everyone with ties to Canada cleared to leave Gaza has crossed the border.
Global Affairs had previously confirmed 266 Canadian citizens, permanent residents and their families had been cleared to make the journey as of Friday.
The Canadian Embassy in Egypt is assisting those who crossed with transportation to Cairo, as well as food and accommodation until they have arranged their travel plans.
The latest tally of those fleeing Gaza comes in addition to 107 people who crossed the border last week.
The war, now in its sixth week, began on Oct. 7 when Hamas militants stormed into Israel, killing an estimated 1,200 people and taking roughly 240 others back into Gaza as hostages. Israel has retaliated with daily air and land strikes, and the Hamas-run health authority says casualties in the territory have topped 11,000.
Israeli Prime Minister Benjamin Netanyahu has rejected urgent international calls for a cease-fire unless it includes the release of all the hostages captured by Hamas.