Surrey to host accessible trick-or-treating event Sunday
Posted October 21, 2023 11:02 am.
Last Updated October 23, 2023 10:14 am.
Homeowners in Surrey are preparing to host a Treat Accessibly Halloween Village on Sunday, for children living with disabilities.
Rich Padulo, the founder of Treat Accessibly, says this will be the second year residents of 69A Avenue in Surrey take part in the Canada-wide movement to "make Halloween the first accessible holiday tradition in the world."
Treat Accessibly is an organization aimed at helping homeowners become accessible at Halloween. Padulo says in addition to creating 'village' events across Canada where entire streets are shut down for an afternoon, his organization also provides lawn signs, information and advice on its website for individual homeowners interested in being more accessible during the holiday.
---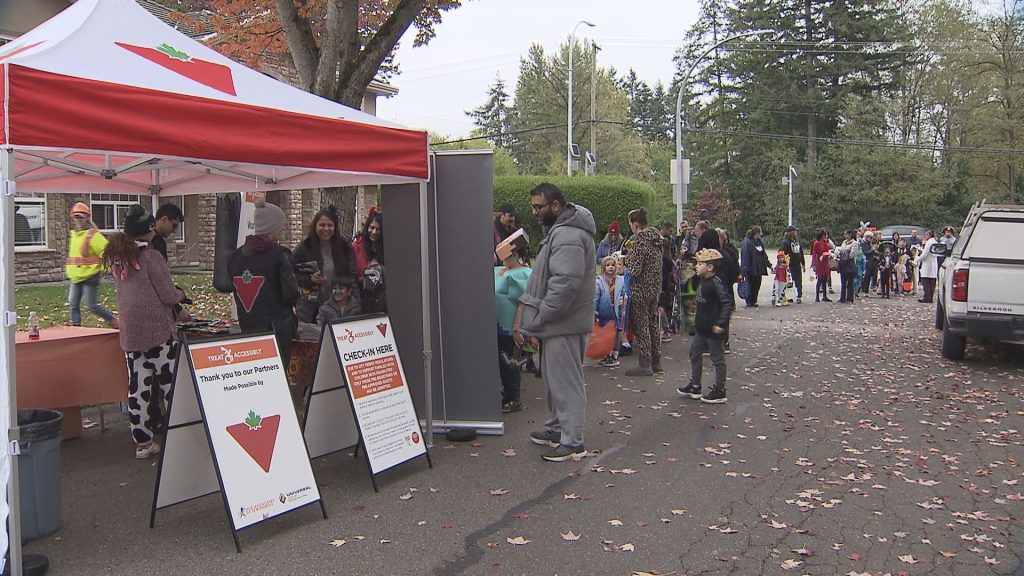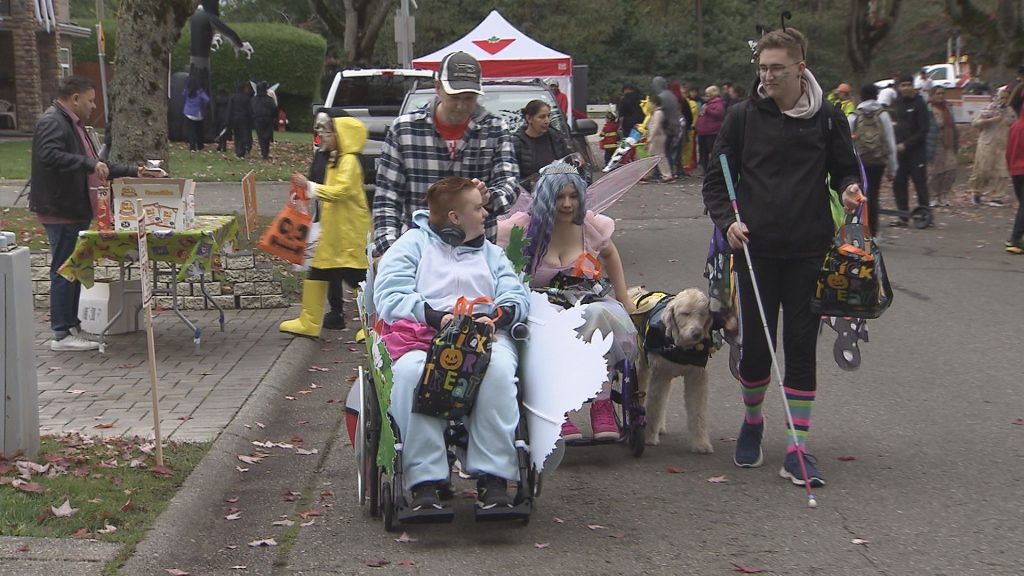 ---
From 1:30 until 4:30 p.m., Padulo says homeowners in Surrey will be volunteering their time on this street to hand out treats provided by his organization, in partnership with the Canadian Tire Corporation. Jugglers, inflatable structures, magicians and stilt walkers will also be at the event to entertain kids and their families.
Padulo explains to make the event accessible, the road will be closed to give people with mobility devices a wider berth to navigate and the participating homeowners will be giving out treats from the end of their driveways to remove barriers like stairs or knocking on strangers' doors. He says holding the event during the day also makes it more accessible by increasing visibility.
"90 per cent of being accessible is just treating at the end of your driveway," he said.
While the entire event is free, Padulo says he asks people planning to attend to pre-register on the Treat Accessibly website so organizers have an idea of how many treats to purchase.
"On Sunday, everyone who has pre-registered for the event get to come in and walk empty streets. The only things on those streets are ghouls and goblins, Batman and Robin, princes and princesses," Padulo said.
He says 30,000 edible and non-edible treats have already been purchased for the Surrey event, and he plans to make at least three runs to get more over the course of the event.
Padulo says he and his daughter were inspired to start this initiative in 2017, when they noticed a child in a wheelchair across the street from their home while carving pumpkins for Halloween.
That year, they decided to change the way they handed out treats for Halloween.
"We put a little sign on the end of our driveway that said 'accessible trick-or-treating,' and we decided to treat from the end of our driveway," he said. "We had seven homeowners from up to four kilometres away come by with their children, with mobility, sensory and intellectual disabilities and they explained nothing like that's ever been done before."
By the next year they had 150 homes participating and now, that number has increased to 200,000 homes across Canada.
For individual homeowners in B.C. looking to be more accessible this Halloween, Padulo says handing out treats from the end of the driveway or ordering a lawn sign from the Treat Accessibly website are small steps that can have a huge impact.
"(A lawn sign) kind of acts as a bat signal to let homeowners know you're treating accessibly on Halloween night," he said.