Vancouver school's Pride Parade shares love, acceptance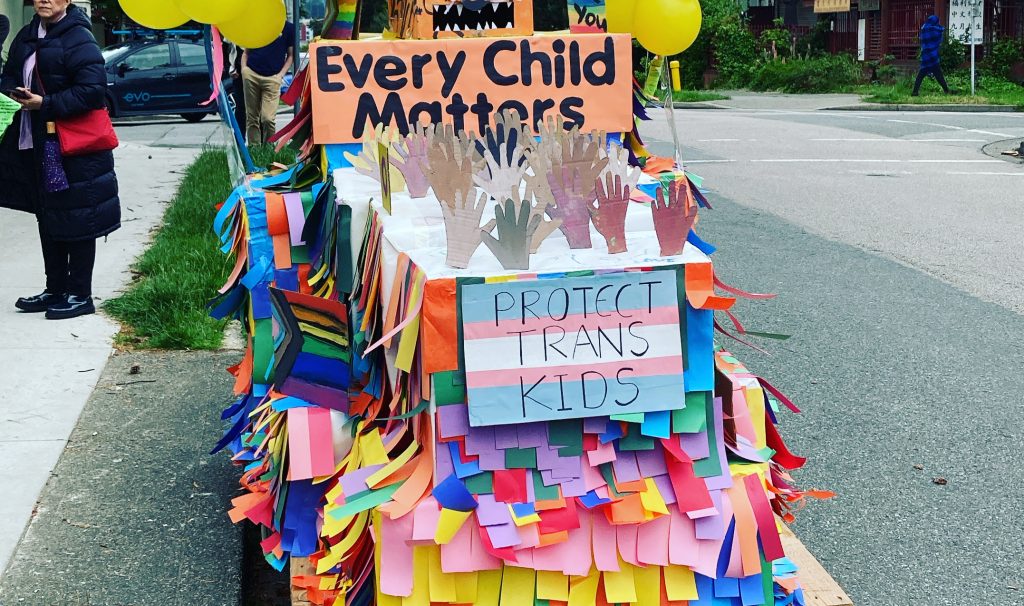 Posted June 17, 2022 1:10 pm.
Last Updated June 17, 2022 6:19 pm.
Love was the theme in an East Vancouver neighbourhood, where dozens of students from Strathcona Elementary took to the streets in their very own Pride Parade.
Dressed in rainbow colours, children walked the blocks around the school on Pender Street Thursday, in support of inclusion.
Waving and smiling at crowds of parents and other neighbours, the children carried homemade signs and costumes.
"We were so excited. The entire school got all done up in their rainbows. It was rainbow day for the kindergarten class. There were sparkles, there was music, there were people on bikes, there was a small float," recalled Meris Goodfellow, whose five-year-old daughter took part in the parade.
Videos of the parade have been posted on social media, some receiving thousands of views and likes.
One video posted to TikTok has generated a number of supportive comments, with one person saying whoever came up with the idea "deserves a raise."
"My heart was bursting," Goodfellow said of how she felt at the parade. "Our family, we're all queer-identified adults in the family as well as our peripheral caregivers and our community is largely a queer community, within the school, within the neighbourhood, and within my co-op, which is just adjacent to the school.
"It felt like, as a community, we are coming together and seeing the joy and seeing the acceptance and support throughout the entire student body. Even right now I have a little bit of shivers just feeling how good that feels," she continued.
Luey McQuaid, Grade 3 teacher at Strathcona Elementary School, said organizing for the parade began in March, and other schools joined in on the event.
"We invited classes from Crosstown Elementary and also (Admiral) Seymour Elementary, so there were actually three schools including Strathcona involved," McQuaid explained.
They told CityNews the event was very popular with the students.
"They loved it. They were really happy. Every class came with decorations. My class did little boxes of colorful cars. Other classes had crowns and flowers. There was a float that the kids got to pull and had big balloons on it and (it) said, 'protect trans kids' and 'Every Child Matters' on it."
McQuaid said they sent out an email informing parents about the event, giving them a choice for the child to attend or not.
"I received only positive feedback. A lot of the parents in my classroom were there to celebrate (but) there were some families who did not want their children participating."
"The last thing I would want is for a student to be in trouble for being part of the parade," they added.
McQuaid said the event has received plenty of positive feedback from the community.
"A lot of people came to show their support on the sidewalks, people were posting online about it, a lot of my friends came and just said it was a really uplifting event," said McQuaid.
"My biggest highlight and takeaway from the event is really making sure that the kids feel safe, to be honest about themselves and also learn more about how to be themselves."
Goodfellow recalls being a young child in a time when she says queer kids and adults struggled to be themselves because of intolerance. She says Thursday's event represented progress.
"We've come a really long way. It brings tears to my eye, I get a little bit misty thinking about it," Goodfellow added.
June to September marks Pride season across Canada. The term is used to refer to the wide range of events that take place through the summer to celebrate 2SLGBTQ+ communities.
In Vancouver, Pride Week is marked at the end of July. This year marks the 44th anniversary of the Vancouver Pride parade, which will be held on Sunday, July 31.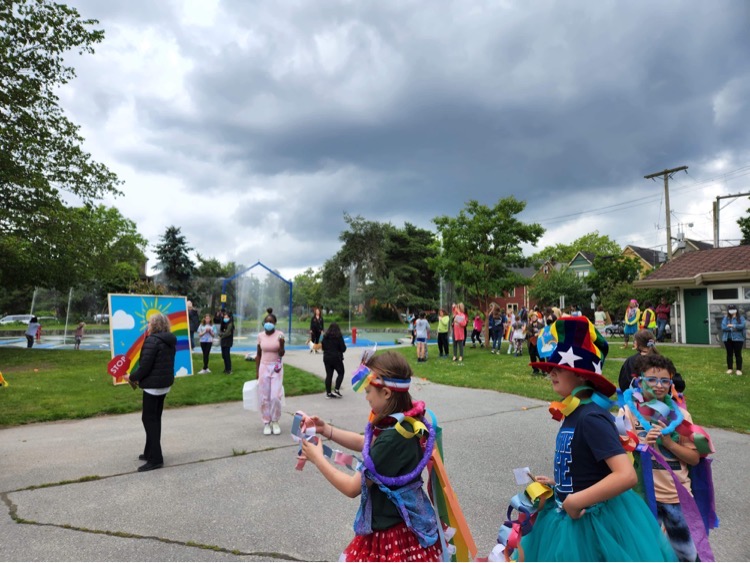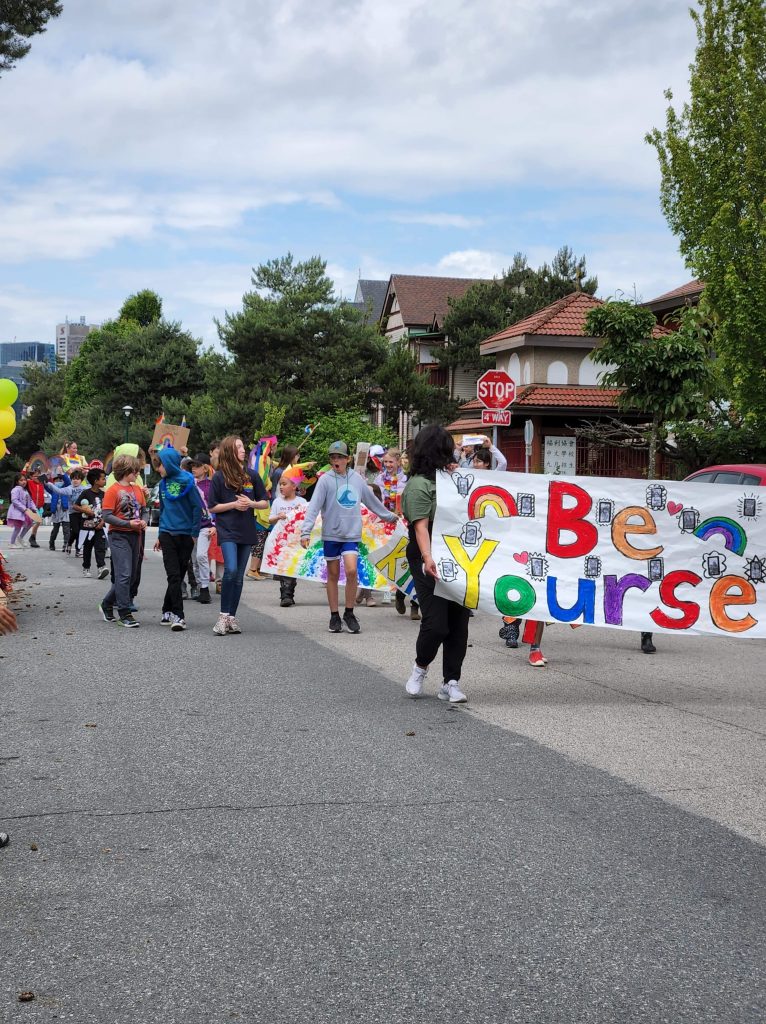 Goodfellow says taking part in such events, like the Pride Parade at Strathcona Elementary, is about "sharing acceptance, tolerance, and integration of people from all walks of life."
"It's a celebration of coming out and coming out of oppression and it gives us a joyful opportunity to speak about what wrongs were done in the past, how we're moving towards tolerance, how there are places in the world where there's still a lot of work to be done," she explained.
She notes while her kid's school event got a lot of support from the community, she's heard of other schools that did the same thing and got pushback.
That, Goodfellow says, shows there's still work to do, though she admits Vancouver is "very tolerant."