Indigenous advocate 'dumbfounded' by Vancouver councillor's use of 'thin blue line' patch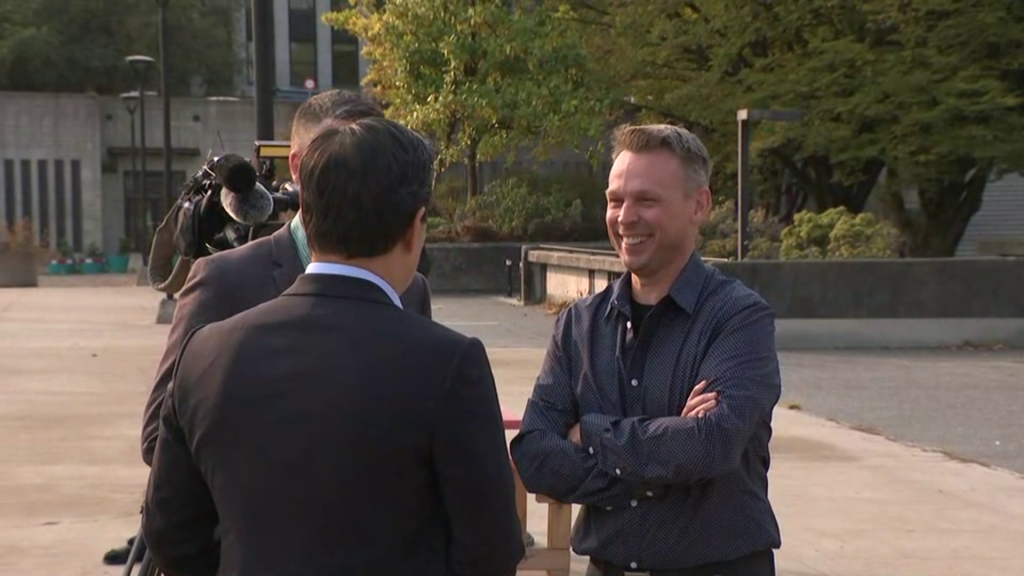 Posted December 21, 2022 3:05 pm.
Last Updated December 22, 2022 2:29 pm.
An Indigenous advocate in Vancouver is expressing concern over a city councillor's views and use of a controversial symbol that is said to have ties to colonization and white nationalism.
Earlier in the week, Coun. Brian Montague, a former member of the Vancouver Police Department (VPD) and an ABC Vancouver member, confirmed on Twitter he wears a "Thin Blue Line" patch on his jacket.
The councillor says he does so as a "memorial to many of the friends and colleagues I have lost."
It symbolizes a line of dedicated people who protect. It is a memorial to many of the friends and colleagues I have lost. It symbolizes courage and sacrifice. I earned the right to wear it. How dare you, or anyone, attempt to redefine, hijack, or appropriate my symbol.

— Brian Montague (@BrianVMontague) December 19, 2022
Matthew Norris, who ran for council under the One City banner and failed to get elected, is a member of the Lac La Ronge Indian Band in Saskatchewan and President of the Urban Native Youth Association in Vancouver. He says it's "disappointing" that Montague remains steadfast on his stance.
"I'm kind of dumbfounded by the defensiveness. … You're adopting a symbol that causes harm to large communities across Canada," he said.
The symbol has been banned for use on uniforms by police agencies across Canada, including Victoria, Edmonton, Ottawa, Toronto and the RCMP.
---
---
Norris says the reviews which led to the bans found the symbol had historic roots in colonization, and more recently, with white nationalism.
"In a world view where there's a clear divide between good guys and bad guys, and too often it's Indigenous peoples, people of colour, people who have been othered and seen as needed to be on the other side of this line," he explained.
"I worry about the uncritical support that we've seen for this symbol, and for the Vancouver Police Department, and more generally from the ABC Party and city councillors," he said.
#Indigenous peoples across this country have been calling on governments to address ongoing systemic racism within our policing institutions, incl. the VPD. How can we expect @Vote4ABC City Councillor @BrianVMontague to take these calls seriously when he uncritically wears this. https://t.co/djbFhWVqZj

— Matthew Norris (@MrMatthewNorris) December 19, 2022
Montague declined an interview on the topic, saying in a statement to CityNews "my position is clear."
In an earlier statement to CityNews, ABC Party leader and Vancouver Mayor, Ken Sim, said "we stand by Councillor Montague's choice to wear the patch" as he's a former police officer remembering fallen colleagues.
"We condemn those who attempt to redefine or co-opt the thin blue line symbol for hatred or political purposes," the mayor said.
However, Norris says there are different ways for people to honour fallen police officers.
"There are other symbols that are in active use by police to commemorate fallen colleagues and the important work, and dangerous work, that is being done in that profession. It doesn't necessarily need to be this symbol," he said.
"I think that it's good that we're having this conversation about what that particular symbol and iconography means to different communities," he said.
Norris says his concern is that ABC Vancouver members, who hold a majority on council, aren't properly considering racialized groups when it comes to making decisions about policing.
"When we talk about that level of criticism, it worries me that elected city councillors who effectively have the ability to propose changes to the police budget…are uncritically engaging in this rhetoric," he said.
"Public institutions such as policing need to be open to criticism, they need to be open to change so that their services can be better used to benefit society in general."
CityNews reached out to both Montague and Sim for an interview in response to Norris' comments but did not receive a reply in time for publication.