New book looks at Jason Kenney's stormy tenure as Alberta premier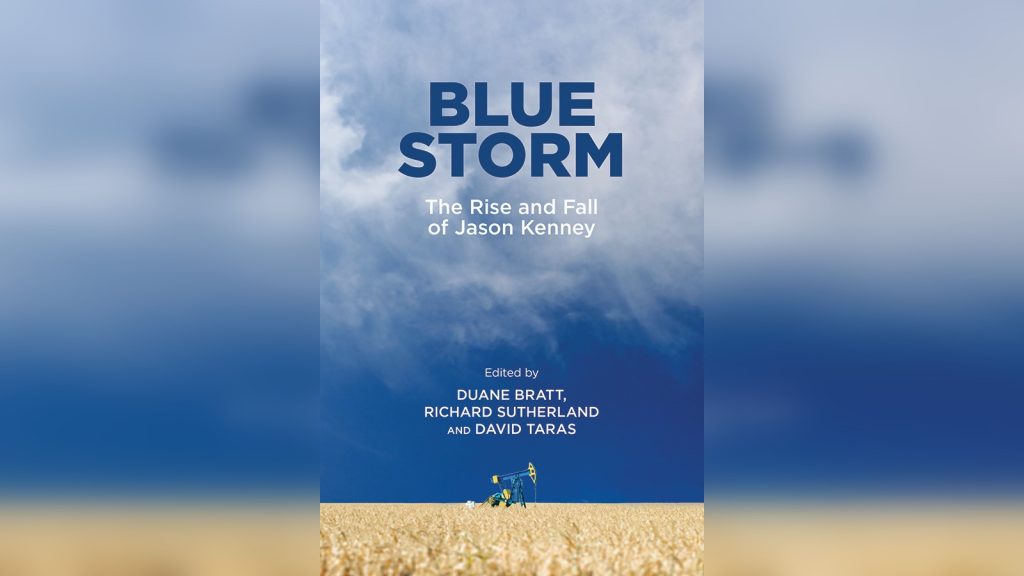 Posted February 12, 2023 4:35 pm.
Last Updated February 12, 2023 4:44 pm.
2023 is an election year in the province of Alberta. Much has changed there in the past four years. The governing United Conservative Party has a new leader, Danielle Smith, after now-former Premier Jason Kenney stepped down last year after barely three years in power. Now, a new book is charting those years as well as setting the stage for what is to come.
Blue Storm: The Rise and Fall of Jason Kenney comes almost four years after Orange Chinook:  Politics in the New Alberta. 
"Yeah, it's got to have a colour and it's got to have a weather pattern to it," joked editor Duane Bratt, a political science professor in the Department of Economics, Justice, and Policy Studies at Calgary's Mount Royal University.
"The Orange Chinook idea came about because we had the first change in government in 44 years and then the idea around the Blue Storm was it's the second half of the of the story.  You've got the election of the UCP and the Conservative restoration.  So, the Conservatives govern for 44 years, they lose, then they come back, and what does that look like?  So, that was the original idea behind the book," he explained.
Plans have a way of changing.  The COVID-19 pandemic began just months after Kenney's April 2019 election victory, throwing his government into disarray.
"What we didn't anticipate was the downfall of Jason Kenney," Bratt admitted.
"This was a man who came back to Alberta politics in 2016, unified the warring conservative parties, the Progressive Conservatives and the Wildrose Party, ran a very strong campaign on jobs, economy, and pipelines, wins an overwhelming majority in 2019, and is probably the most powerful conservative in the country at that time.  And he doesn't even serve a full term of office, pushed out by his own party in a leadership review in May of 2022, receives 52 per cent support, realizes he can't go on, and so announces his resignation."
"So, the book is actually a combination of those three themes, the Conservative restoration and what that looked like, how they responded to COVID, and how, in an almost Shakespearean way, Kenney goes from being the most powerful Conservative to being pushed out by the Conservative Party."
As the book observes, part of Kenney's downfall was his conception of Alberta's political history and culture was based on caricature.
"Jason Kenney, even though he represented a Calgary riding federally for 20 years, really didn't spend a whole lot of time in Alberta during that period," Bratt said.
"He lived in Ottawa as a federal cabinet minister. And so, when he came back, he got into trouble because he didn't understand modern day Alberta and surrounded himself with staffers who worked with him in Ottawa, who may have had some Alberta roots, may have been born here or educated here, but hadn't spent a lot of time here.  And that became evident over time."
Alberta's next provincial election is set for May 29th.  Kenney may no longer be in power, but Bratt thinks the former premier still casts a long shadow.
"Jason Kenney is not on the ballot, except he is on the ballot," he explained.
"The Ghost of Jason Kenney is going to haunt this election, because the new UCP leader, the new Premier, Danielle Smith, you can't explain her rise to power without looking at the downfall of Jason Kenney."
Bratt thinks it's unlikely Alberta will have another conservative political dynasty.
"The two-party system is here to stay," he said.
"It started to emerge in 2015, it solidified in 2019 and 2023.  [The UCP and the NDP] are the only parties that will have candidates in every riding.  They get 95 per cent of donations.  We are in a two-party system — just like BC is, just like Saskatchewan is, just like Manitoba is.  So, it's very different from the history of Alberta, which was one-party dynasties."
Blue Storm: The Rise and Fall of Jason Kenney edited by Duane Bratt, Richard Sutherland, and David Taras is available from the University of Calgary Press.