Making sure everyone has menstrual products: Period Promise campaign kicks off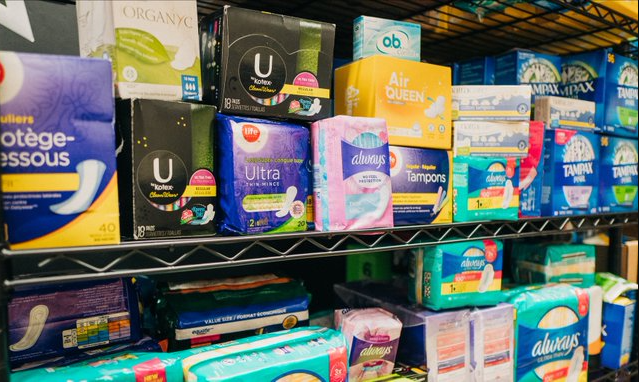 Posted May 16, 2023 12:02 pm.
Last Updated May 17, 2023 11:57 am.
A lot of things have gotten more expensive because of inflation, and menstrual products are among them.
United Way British Columbia (United Way BC) has launched a campaign to help ensure everyone who might need menstrual products has access to them.
.@CUPEBC is committed to making it easier for everyone in BC to get the menstrual products they need through their support of the #PeriodPromise campaign. Do your part. Give financially, donate product or organize a collection campaign. Learn how at https://t.co/HSeOhOeNLt pic.twitter.com/aGmAXv1yIf

— United Way British Columbia (@UnitedWay_BC) May 13, 2023
"As the cost of living continues to rise and inflation impacts essential items, including basic hygiene supplies, supporting this year's Period Promise campaign is more important than ever," Rob Chiarello, senior vice-president of people and culture at Pacific Blue Cross, said.
"Through donations of menstrual products, financial contributions, and organizing our own campaigns, we can raise awareness to help alleviate period poverty in our communities."
The Period Promise campaign kicked off Tuesday and is set to run until June 13.
"At least half of people who menstruate will struggle with access to products at some point in their lives — and with the rising costs of basic goods, this amount is increasing," a news release reads.
United Way BC says a report shows that 26 per cent of people who menstruate in the province "have gone through a period without having menstrual products available to them."
It adds that because of this, people reported missing school, work, and social or community events.
"Nearly 75 per cent of respondents indicated that having access to products at community organizations allows them to be more engaged in their community," it adds.
---
Related articles: 
---
Organizers say it's looking to collect more than 700,000 products — the record that was set last year — to hand over to community agencies to give out to those who need it most.
The organization is calling on everyone to participate, including schools and workplaces.
Menstruation products are just one of many things that have risen in price lately, as United Way BC says that according to Statistics Canada, "the cost of personal care items like tampons and pads is up 6.2 per cent compared with last year."
United Way's #PeriodPromise campaign presented by @pacbluecross has officially launched! From May 16-June 13, we're collecting financial donations and menstrual products because everyone who needs these products, should have access to them. Donate today https://t.co/VgkXmF3nWb pic.twitter.com/PjkDP336IU

— United Way British Columbia (@UnitedWay_BC) May 16, 2023
"The cost of living has always been a concern, especially amongst vulnerable populations such as newcomers, immigrants, refugees, and in the last year or so, inflation has certainly shot up quite a bit and has continued to make essential items for individuals and families very challenging to acquire," Angelene Prakash, the co-chair for the Period Promise Community Action Group, said.
For more information on the campaign or to donate, click here. 
-With files from Sonia Aslam