Is Vancouver's urban tree canopy prepared for climate change?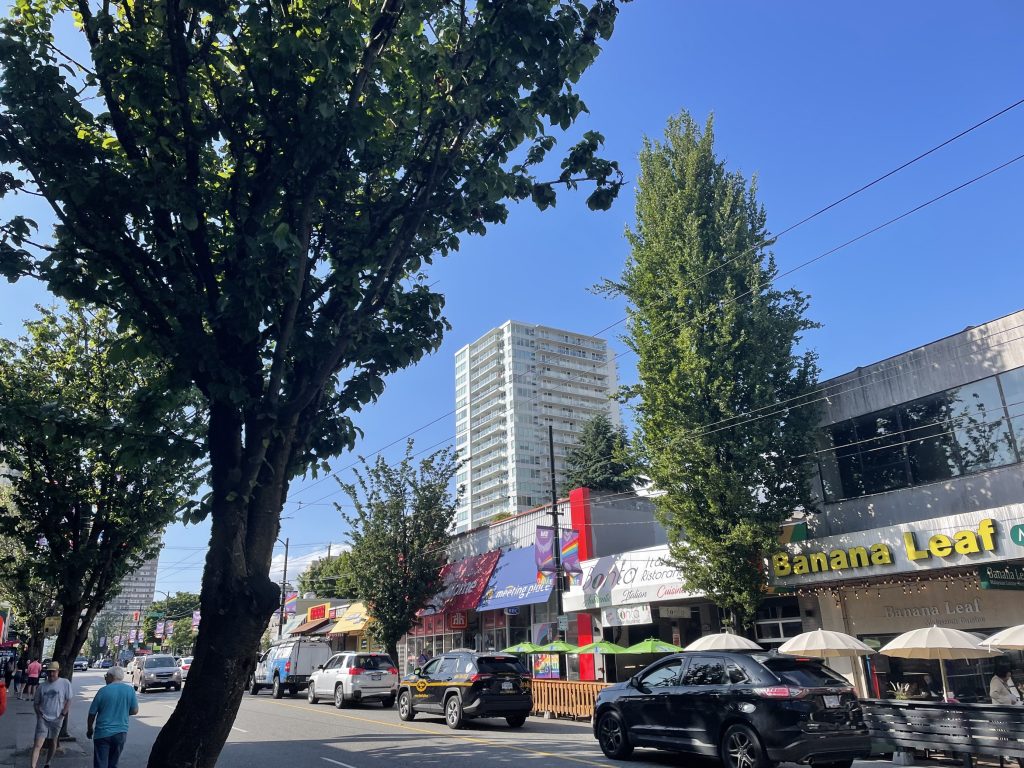 Posted June 15, 2023 3:03 pm.
As extreme weather in Vancouver is expected to be more frequent due to climate change, researchers are saying that trees could play a pivotal role in mitigating some of the adverse effects.
But will Vancouver's trees be up to the task in the decades to come?
It's something that Lorien Nesbitt, an assistant professor at the University of British Columbia's (UBC) Faculty of Forestry, believes we need to be thinking of more.
"One of the problems that I think we have is that we see trees as a 'nice to have' instead of a really essential public good," she said.
Nesbitt points to the heat dome of 2021, which brought scorching temperatures to much of western Canada, as an example of the importance of trees in urban centres.
"The Urban Heat Island Effect is basically in areas where we have more concrete and more built structures, and we see higher temperatures across the city," she explained.
"During the heat dome, research has shown that areas with better tree canopy cover had fewer deaths. So we are really talking about trees providing an essential service."
However, trees can do more than just keep people cool, explains Nesbitt's colleague Sara Barron, Director of Urban Forestry Projects at UBC.
"They're helping slow down stormwater so that when there is a rain event, it doesn't just rush out with all the pollutants involved into streams," she explained.
Additionally, when compared with other infrastructure, Barron says trees are often a cheaper option.
"Trees and soil is not super expensive. It's not pipes. It's not big engineering projects," she said. "This is an affordable way to think about how to adapt to climate change."
However, the researchers acknowledge that growing Vancouver's tree canopy could be a challenge.
Extreme weather is killing more trees: arborist
In 2011, the City of Vancouver launched the Urban Forest Strategy. It set forth the vision to grow the city's urban forest canopy to 30 per cent by 2050.
However, this goal is contending with an apparent increase in trees that have to be removed.
Francis Klimo, a professional arborist who works in Metro Vancouver, tells CityNews that his profession has noticed more trees dying from disease and drought.
"It's not the norm that we've come to expect the last five to 10 years," he said. "Me and many experts view that as a sign of climate change. Trees obviously do adapt, but rapid changes in environment and weather, it does add stress to trees."
The City of Vancouver says that crews remove an average of 1,000 trees every year due to old age, health issues, and storm damage, and try to plant "two to three thousand" more.
When it comes to deciding where new trees can be planted, Nesbitt and Barron say there are a lot of factors at play.
Tree coverage varies by neighbourhood
In a city as densely populated as Vancouver, Nesbitt says the solution to growing the city's canopy isn't as simple as planting more trees.
"I definitely don't think it's about deciding that we're going to put a bunch of trees in a neighbourhood and not talking to the people who live there," she said.
"We're going to have to figure out what other 'grey' infrastructure are we removing to provide space for trees."
Nesbitt says currently, Vancouver's focus appears to be on adding trees and foliage to areas that are getting redeveloped.
"We're greening areas that are getting more expensive, which is problematic. We should be greening neighbourhoods that are affordable for people to live in but that are also low canopy. So we can't always be tying development to greening if we want to rectify existing inequities," she said.
That sentiment is echoed by Barron, who says tree coverage can be viewed as a sort of privilege.
"If we want to care for the entire population, which as a human community we should, we need to find places where people can go to get cool," she said. "Unfortunately, what we find often, is that the places that need that outdoor, publicly accessible shade the most, have the least of it, for a variety of reasons."
Nesbitt suggests tree canopy needs to be thought of as an integral part of housing developments.
"I think we need to think about how we're doing urban greening in a localized and context-sensitive way that meets the needs of the communities that we're trying to serve," she said. "As we provide denser housing on single-family lots, for example, we need to think creatively around how trees are going to survive and how we create space for trees."
How Vancouver is preparing trees for the future
The City of Vancouver has not provided an update on the Urban Forest Strategy to council since 2018.
In an email to CityNews, a spokesperson with the city says areas with "diminished canopy" and that experience higher temperatures are being targeted through "intensive tree planting."
"Factors that challenge planting more street trees include competition with underground and overhead infrastructure, increasing density and increasingly hot summers that necessitate increased watering to offset drought conditions," the email stated.
It's the end of tree planting season in Vancouver. This year, the team put thousands of trees in the ground, focusing on some of the lowest canopy areas to better support residents through increasingly hot summers. Learn more about the Urban Forestry team: https://t.co/5GtG2Zk1Ee pic.twitter.com/fzKG7sJX2d

— Vancouver Board of Parks and Recreation (@ParkBoard) June 14, 2023
In a broader scope, the Metro Vancouver Regional District has compiled a list of over 300 trees that are ranked on their ability to withstand climate change.
While the city's goals are promising, Nesbitt and Barron say that the strategy needs to be open to change if they are to be met.
"Our research has shown that it's going to be really difficult to do that with 'business as usual practices," Nesbitt said.
"It takes a while for a tree to grow to mature size. So, even though they're doing the work, we may not realize the benefits for another 20 years," Barron added.
Both researchers also note that maintaining trees and keeping them healthy is just as important as a strategy to plant more trees.
"It's so important as citizens to advocate for city funding to make sure that management is put in place to help those trees grow," she said.
The City of Vancouver says trees that are planted are given supplemental water, and crews are looking at cities further south as a predictor of what Vancouver's climate could be like in years to come.
It also says an update on the strategy will be made later this year or in 2024.