B.C. port workers back on strike after tentative deal rejected
Thousands of port workers in B.C. are back on strike as of Tuesday afternoon after a tentative deal was rejected. Monika Gul has the latest.
Thousands of port workers in B.C. are back on strike as of Tuesday afternoon after a tentative deal was rejected.
This comes after the International Longshore and Warehouse Union Local 502 (ILWU) and the BC Maritime Employers Association (BCMEA) previously came to a tentative agreement on July 13, ending nearly two weeks of job action.
In a news release, the association says the ILWU's internal caucus leadership has now "rejected the tentative agreement before it was even taken to a vote of the full union membership."
---
BC's port strike is back on after union says its caucus voted down the deal recommended by federal mediator. @BoardofTrade says it's dismayed and disappointed. @CityNewsVAN pic.twitter.com/JIB7s1U7p7

— Monika Gul (@MonikaGul) July 19, 2023
---
Meanwhile, the ILWU says that the caucus "does not believe the recommendations had the ability to protect our jobs now or into the future."
"With the record profits that the BCMEA's member companies have earned over the last few years, the employers have not addressed the cost of living issues that our workers have faced over the last couple of years as all workers have," the statement reads.
"The term of the collective agreement that was given with today's uncertain times is far too long. We must be able to readdress the uncertainty in the world's financial markets for our members."
---
Related articles: 
---
Strike action first began on Canada Day and lasted for nearly two weeks, causing widespread impacts on shipping and transportation before a tentative agreement was reached and employees went back to work.
About 7,400 port workers were involved at over 30 port terminals and other sites across the province.
The strike froze billions of dollars worth of cargo from moving in and out of harbours, including at Canada's busiest port in Vancouver.
The BCMEA says the tentative agreement was "fair and comprehensive" but "could not satisfy some of the" ILWU leadership.
It adds that the four-year deal included "considerable hikes in wages and benefits."
'Dismayed and disappointed': GVBOT reacts to strike
In a statement from the Greater Vancouver Board of Trade, CEO Bridgitte Anderson says the board is "greatly concerned" about the strike.
"We are dismayed and disappointed that the mediated deal was rejected by the ILWU, and job action is recommencing at Canada's west coast ports. In the first 13 days of job action, $9.9 billion in traded goods were affected, causing significant economic harm," she said.
"We are greatly concerned about the impacts the continuation of the strike will have on Canada's international reputation as a reliable trade partner. In less than two weeks, businesses across Canada were facing shortages, temporary layoffs, and, in some cases, total shutdowns. The continuation of the strike will put these businesses at risk again."
Anderson adds that the board is calling for an "expedited resolution" and are asking the federal government to step in.
---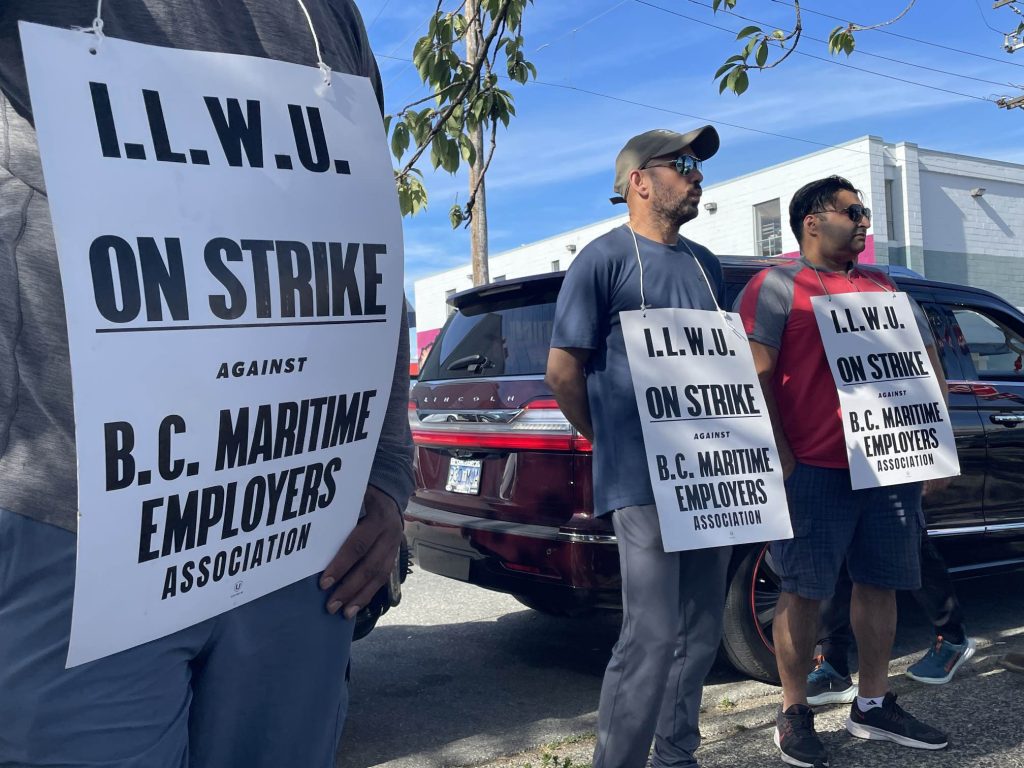 ---
One port worker who spoke with CityNews on condition of anonymity, says they were turned away from work about an hour-and-a-half before the strike began.
"I don't know why it fell through…but I just know that, obviously, it got voted down and we're going back out," they said.
"Hopefully they come to terms to change the deal so it works for everyone."
They add that they believe it's a good thing to go back on strike, in order to ensure job security.
"If the deal's not right, it's not right. And [it's] time to make it right and make sure we secure our jobs."
As of 4:30 p.m. PST Tuesday, workers were back on the picket lines.
---
With files from Robyn Crawford