'An exaggerated version of real life': Vancouver comes of age in new PNE memoir 'East Side Story'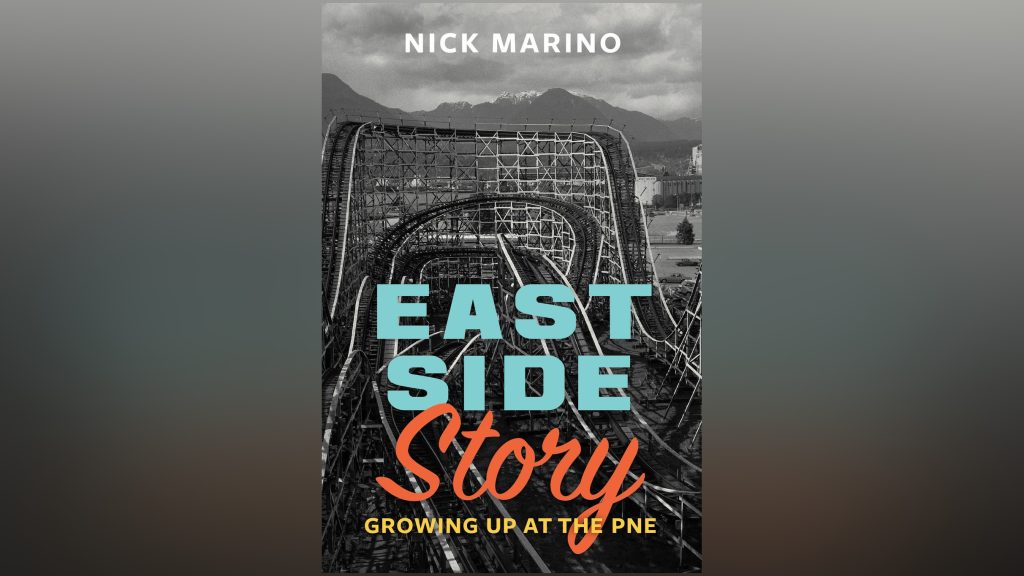 Posted August 14, 2023 8:17 am.
Calgary has the Stampede, Edmonton has K-Days, in Toronto it's the Ex, and in Vancouver, the yearly summer celebration is known simply as the PNE. And few know it better than Vancouver-based writer, comedian, and elementary school teacher Nick Marino. He spent six summers working at the fair, beginning at age 12 in 1980.
"It was kind of eye-opening, to be not quite a teenager and be thrown into working at the PNE, seeing all different kinds of things going on," he explained. "It's an exciting place to be just as a kid and then, as my first job, it was great."
East Side Story: Growing Up at the PNE, Marino first's book, is part-memoir and part history.
Happy #PubDay to #EastSideStory by Nick Marino—a sly, sentimental, and wickedly funny memoir about growing up at the local fair, the PNE (Pacific National Exhibition) https://t.co/PXWOwVUX9j pic.twitter.com/33XLLH9DdS

— Arsenal Pulp Press (@Arsenalpulp) August 8, 2023
In those days, the PNE was not only home to the annual fair and the Playland amusement park, but also to the BC Lions, the Vancouver Whitecaps, and the Vancouver Canucks. It seemed to be where all the action was.
"Yeah, for sure," Marino agreed. "My family, we were big Whitecaps fans at the perfect time because they won the Soccer Bowl in 1979, so we had season tickets. So, you know, going down to Hastings Park, where the PNE is, was always super exciting. And any concerts I went to were always at the [Pacific] Coliseum. So, everything that was happening in the city seemed to be happening, like you say, in the northeast corner of the city."
The book is very much a coming-of-age tale – not just Marino's, but Vancouver's.
"I thought it was a nice parallel that the year that I turned 19 was '86," he said. "And it was sort of like the year that the city sort of came of age. And I tried to parallel that in the book. I was the youngest in my family, youngest of my cousins and all that, so I was always looking up to them. And I felt like Vancouver in the same way was looking up to cities that got a lot more press. So yeah, it definitely is a coming-of-age story of both the city and for me."
---
---
Indeed, many consider the Expo 86 World Exposition as the moment Vancouver went from a working-class frontier town best exemplified by the PNE to the world-class city it would become. It also marked a change for East Van in particular. The Lions and the Whitecaps had moved to BC Place by then and the Canucks would vacate the Coliseum for their downtown arena in 1995.
"It became less of a cultural hub," said Marino. "There weren't reasons for people outside of East Vancouver to be going into that area quite as much  I worked for a while as a waiter at Sirloiner, right across the street from the Coliseum. And that place was packed whenever there was a hockey game, whenever there were [horse] races at the track. But once everything moved away, the people that were in that area were more likely just East Van people."
Marino manages to work more than a few East Van people into the book, some of them household names at the time.
"Well, I definitely wanted to get Bobby Lenarduzzi and Lui Passaglia, two guys that grew up half a block from the PNE," he recalled. "And in Lui's case, every team he played on, he played at Empire Stadium, from when he was at Notre Dame to SFU to the Lions.  So, I thought those guys would be great to have in it."
---
---
Marino captures the rough-and-tumble nature of the city at that time as well as the unique characters that inhabit a summertime fair. But alongside tales of the iconic wooden roller coaster and the carnival-style games of chance are less cheery aspects of the PNE story – like the time the fairgrounds were used to intern Japanese Canadians during World War Two.
"And some of them were held for a few weeks or more for months. But the conditions were deplorable, and they were living in horse barns. There was 1500 women and 10 showers," he explained.
"Because of that, you know, and being a teacher, that's one of the things I cover in the curriculum is what happened with the Japanese internment and incarceration. So, it seemed very important to me to have it on in the book."
Marino writes in a chatty, conversational style that combines the best aspects of a personal memoir with a rollicking history of Vancouver's yearly end-of-summer celebration.
"In no way do I see this as a definitive history of the PNE," he admitted. "It's just my story."
"I hope I paint a picture of what it was like in the early '80s and just an overall feeling of fair life, like what goes on at a fair, because it's a little bit different than the real world.  Life inside a fair is an exaggerated version of real life, I think."
East Side Story: Growing Up at the PNE is available from Robin's Egg Books, an imprint of Arsenal Pulp Press.