Canada commits $650M to Ukraine over 3 years: PM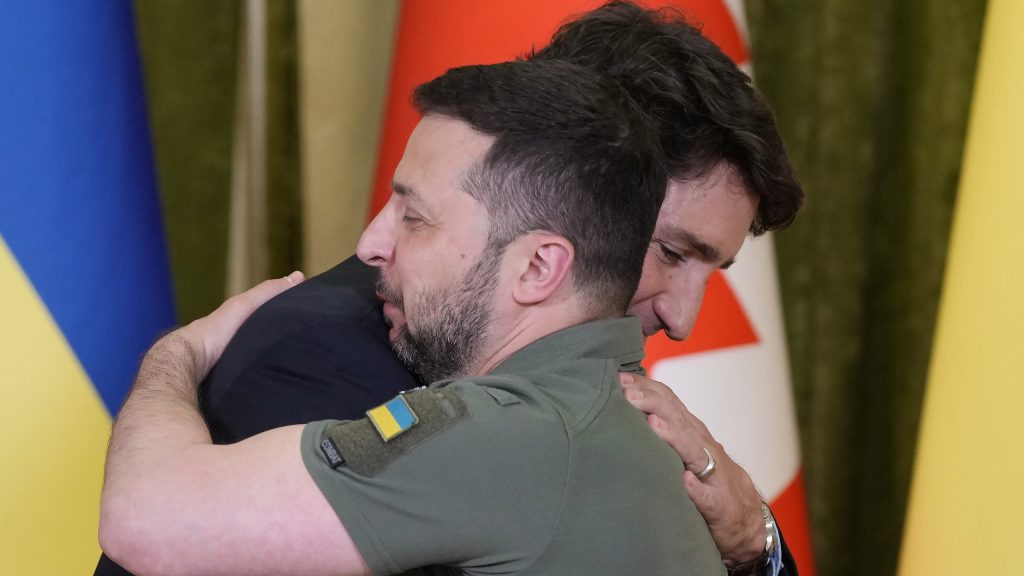 Posted September 22, 2023 11:06 am.
Last Updated September 22, 2023 11:17 pm.
Prime Minister Justin Trudeau has announced that Canada is making a multi-year commitment to provide steady support to Ukraine.
The two countries have also signed a modernized trade deal as Zelenskyy visits the country for the first time since Russia's full-scale assault on Ukraine began last year.
Trudeau explains that $650 million will be used to fund 50 armoured vehicles, including medical evacuation vehicles, that will be built by Canadian workers in London, Ont.
---
This afternoon, I announced new military support for Ukraine – we'll provide them with 50 made-in-Canada armoured vehicles. I also confirmed that we'll contribute pilot and maintenance instructors for F-16 fighter aircraft, and support for Leopard 2 tank maintenance.

— Justin Trudeau (@JustinTrudeau) September 22, 2023
---
Trudeau says Canada will also send F-15 fighter pilots and maintenance trainers to the Eastern European country, which continues to be at war with Russia.
The federal government has also announced the allocation of part of the $500 million of support Canada announced in June, as well as additional funding toward mental health care in Ukraine and non-governmental organizations.
---
Read more:
---
In a post on X, Zelenskyy says Ukraine and Canada "signed a renewed Free Trade Agreement and a memorandum on building a Hydroelectric Power Plant in Ukraine."
"We also discussed the Peace Formula, recovery, mine clearance, and security guarantees on Ukraine's path to NATO. I am sincerely grateful to Prime Minister Trudeau, his government, and all Canadians for standing with Ukraine," he said.
---
During our talks, @JustinTrudeau and I reaffirmed the strong Ukrainian-Canadian partnership.

Canada will train our pilots on F-16s and provide additional air defense missiles. Today's new military aid package includes armored vehicles and medevacs.

We also focused on… pic.twitter.com/elafAMAZ1f

— Volodymyr Zelenskyy / Володимир Зеленський (@ZelenskyyUa) September 22, 2023
The Ukrainian leader recently spoke at the UN General Assembly in New York City, where Trudeau appealed to other nations to support Ukraine's war effort and called on Russia to withdraw its troops.
Canada has provided more than $4.95 billion in financial support and $1.8 billion in military aid for Ukraine.