New memoir reveals the private struggles of legendary Canadian sprinter Harry Jerome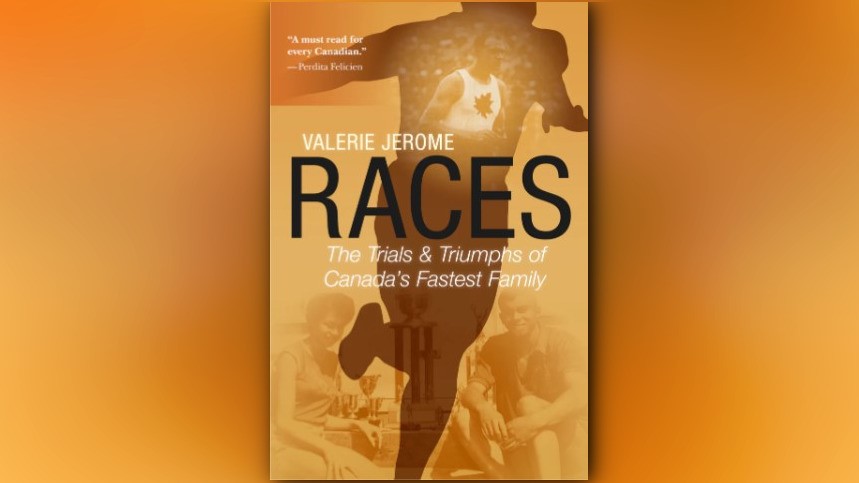 Posted September 30, 2023 3:32 pm.
Last Updated November 10, 2023 1:33 pm.
If you live on the North Shore or are involved in track and field, there is no doubt you have heard of Harry Jerome, the legendary North Vancouver-raised Olympic sprinter.
Once considered the fastest man on Earth, Jerome died of a brain aneurysm in 1982. Among the many honours and tributes to him are the rec center in Central Lonsdale and the oval at West Vancouver Secondary that bear his name as well as the nine-foot bronze statue of him that graces the Stanley Park Seawall in Vancouver. There is also the Harry Jerome International Track Classic, Canada's longest-running track and field event, held annually at Burnaby's Swangard Stadium.
---
---
While his achievements on the track are well known, what isn't as well known or talked about is the racism he and his family endured and, in some cases, still do.
A new memoir might change that. Races: The Trials and Triumphs of Canada's Fastest Family was written by Harry's sister and fellow Olympian Valerie Jerome.
"I'd like people to see that we're human and experience all the same emotional ups and downs, the joy and pain, that everybody's life is touched with, you know," said Valerie.
"I guess humanity is what I'm looking for."
Valerie admits it took a lot to get Races across the finish line, having shopped it to book publishers for years with little success.
"I first submitted it to a publishing company in 1991," she recalled. "[I'd] been across the country to Ontario to some of our very well-established publishing companies and was told, basically, they'd never heard of Harry Jerome."
She says interest only picked up in the last few years, after the global reckoning with racism that followed the killing of George Floyd in 2020.
"I think the fact that George Floyd had died on Canadian television screens, Canadians saw that maybe this is something they should concern themselves with," she said.
"I think that certainly made it possible because I ended up with two offers for publishing just a short while ago, so I'm very, very grateful to this man who paid a very significant price with his life that he opened the doors for publication for me."
As the title implies, Races: The Trials and Triumphs of Canada's Fastest Family isn't just about Harry Jerome. Valerie was once an elite track and field athlete in her own right. In fact, Harry's grandfather, John Armstrong Howard, was Canada's first Black Olympian, a fact hidden from them as children.
"It wasn't something [our mother] was terribly proud of so it was really never talked about," she admitted. "And when we came out into the track world, the odd person, who had some knowledge of track and field history in this country, mentioned it. [But] it wasn't until I began working on this manuscript that friends helped me research a lot of this."
Valerie begins the book by writing about growing up in North Van in the 1950s. She and her siblings were forced to endure some of the cruelest forms of anti-Black racism — from a petition trying to stop their family from moving into Lower Lonsdale to kids throwing rocks at them on their way to school when that petition failed.
Harry and Valerie soon found an escape in athletics. As Valerie put in the book, "Life made more sense on the playing field."
---
---
"That's absolutely right. The colour of our skin had nothing to do with the result. The measuring tape said the jump was so far or the stopwatch said whatever. It was a lot more just."
Harry was still in high school when he broke his first record, setting a new Canadian benchmark for the 220-yard dash. But the following year in 1960, he was forced to pull out of the Rome Olympics due to a hamstring injury. That began a tense relationship with the press who branded him a quitter. Valerie says that affected him profoundly.
"Well, you know, it makes you really cautious when somebody's asking you for an interview and you know that they're going to turn it into something that ends up being a diatribe against you. It makes you very, very cautious," she said.
She goes on to point out how, even after he achieved worldwide fame, Harry was treated differently because of the colour of his skin. And she admits it still happens to her too.
"You know, I've sat on a bus and listened to people belittling me and nobody on the bus having the guts to stand up and ask these men to either shut up or get off the bus or something," she said.
"It's still happening out there."
It's clear a need for speed runs in the family, but so too does a strong sense of social justice.
"My dad actually led the way on that. He was a very active member of the CCF," she said.
"You know, when you grow up in a very much demeaned community, you've got a bit of struggle in you from the get-go."
Valerie's older sister Carolyn was one of the Militant Mothers of Raymur, a group of women who successfully lobbied to have a pedestrian overpass installed above a set of train tracks in East Vancouver so that their children could safely walk to school.
---
---
Valerie's son Stuart is a former leader of the BC Green Party and Valerie herself ran for political office several times under the Green banner.
Valerie hopes the book makes Canadians confront the uncomfortable fact that racism still exists.
"One of the chapters in the book is prefaced with a quote from James Baldwin which is, 'Not everything that is faced can be changed, but nothing can be changed until it's faced,'" she explained.
"One of my motives in writing this book and wanting it to be out there is that I hope Canadians start to take a look at themselves and face it so that we can change it."
Races: The Trials and Triumphs of Canada's Fastest Family is published by Goose Lane Editions.