Comedian pens 'awesome' love letter to the game of hockey in new memoir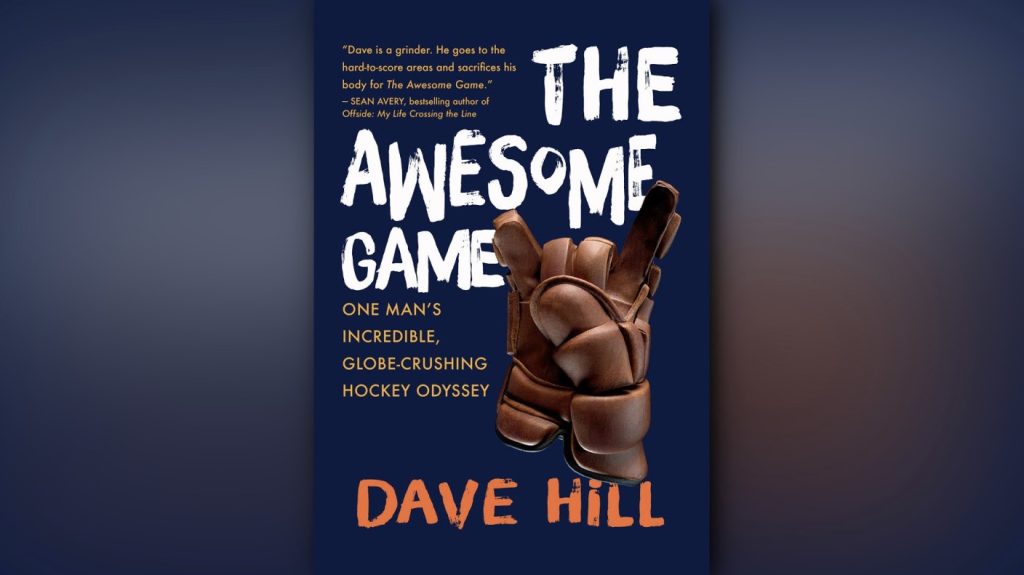 Posted October 28, 2023 9:07 pm.
Last Updated November 10, 2023 1:35 pm.
Dave Hill loves hockey. Full stop. The game, the jerseys, the personalities – you name it. Now, the comedian, writer, and musician is sharing that love of Canada's most popular sport, and all the places it has taken him, in a memoir entitled The Awesome Game: One Man's Incredible, Globe-Crushing Hockey Odyssey.
Hill starts things off lamenting the lowly status of the game in his native United States — falling behind football, baseball, basketball, and even NASCAR as the country's national pastime.
"It's deeply disturbing," he said. "If you throw in college football and then soccer, hockey is really in the weeds."
John-Ackermann-sits-down-with-Dave-Hill-author-of-The-Awesome-Game-One-Mans-Incredible-Globe-Crushing-Hockey-Odyssey
Hill grew up in Cleveland, Ohio – not exactly a hockey hotbed. Its short-lived NHL franchise, the Cleveland Barons, left town in 1978. He admits his love for the game often made for a lonely childhood.
"There was, like, one or two other kids in my school who were into hockey. You know, you'd be on the playground and say to one of your classmates, 'Oh, did you see the Rangers Flyers game last night?' And they'd be like, 'What are you talking about? Give me your lunch money!'"
One exception was a brief shining moment in the winter of 1980, right after the fabled "Miracle on Ice," when Team USA beat the USSR at the Lake Placid Olympics.
"That Olympics kind of went beyond hockey because it was kind of like the Cold War on ice," he explained. "So, people were pretty excited about it. But it didn't stick. A few weeks later, everyone's talking about football again. And I was a sad little boy."
Indeed, there is something almost childlike about his fascination with the game and its lore. For instance, Hill spends a whole chapter rating various hockey jerseys (or sweaters as he prefers to call them). He finds NHL jerseys to be a little bit on the conservative side.
"If there's not blood or fire or at least a real irritated-looking animal on your jersey, what are you doing?"
Not surprisingly, Hill's favourite jersey belongs to the Sudbury Wolves of the Ontario Hockey League.
"It's a deranged-looking wolf that looks like it was drawn by a 15-year-old hopped up on Mountain Dew in the back of history class or something. It's got blood on the teeth and there's even a droplet of blood flying across the jersey. That jersey really ticks all the boxes for me."
The book is part memoir and part travelogue, as Hill writes about all the places his love of the game has taken him, from Peterborough and Gatineau to Finland, Poland, and even Kenya.
"Poland, I mean, just the insanity of Polish hockey fans, I've never seen their level of enthusiasm for anything on earth," he said.
"They are marching through the streets from about noon on game day, just like walking around chanting, freaking out."
Hill was surprised at the level of enthusiasm he saw in Kenya too.
"[It's] the last place you would think that there would be hockey fans," he admitted. "And just bonding over hockey with these guys, it was amazing."
The Awesome Game is a love letter to the game of hockey that never takes itself too seriously, starting with the cover image: an old-school hockey glove forming the devil horns. And while the book often feels like Hill is preaching to the converted, he is also quite open about wanting to convert new fans too.
"You know, if I can get just one person to be like, 'I'm gonna go to my local hockey game and see what it's all about,' I think my work will be done," he said.
The Awesome Game: One Man's Incredible, Globe-Crushing Hockey Odyssey is published by Doubleday Canada.