Car crashes into Abbotsford building leaving store with 'substantial damage'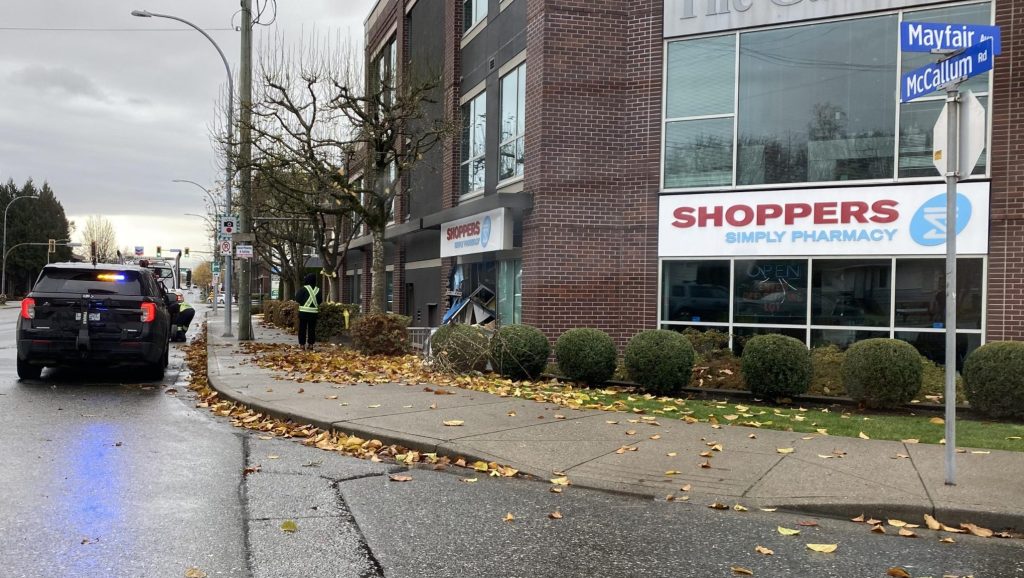 Posted November 19, 2023 9:38 am.
Last Updated November 19, 2023 9:55 am.
An Abbotsford business has been left with what police describe as "substantial damage" after a car crashed into a building Sunday morning, and the driver reportedly left the scene.
Const. Art Stele with the Abbotsford Police Department says calls started coming in about the incident just after 6 a.m.
"We received a call that there appeared to be a motor vehicle incident at the corner of Mayfair and McCallum Road. We received also an alarm from a business in the block of McCallum Road about a glass break," Stele explained to CityNews.
When officers arrived, he says a car was "in the side of the building and business." Stele notes the driver was not found at the scene.
"Because the vehicle was unoccupied we then, obviously, initiated the search for … the occupants. The airbags were deployed so we were also concerned about the wellbeing of any occupants and driver," he explained. "Running the plate we were able to get some registered owner information which led us to a residence."
Distracted driving, speed believed to be factors in crash: APD
Stele says police have since been able to find the driver, who suffered what he describes as minor injuries. No one else was hurt, with police noting the business was closed at the time of the incident.
The driver was issued "some Motor Vehicle Act violation tickets."
According to Stele, impairment does not appear to have been a factor, though "speed and unsafe driving was."
"It's just another case of how speed and distracted driving is a grave danger to the public as well as other motorists. Fortunately, only one vehicle and an empty building were susceptible to any kind of damage. However, if this had occurred during the daytime or when the business was open, this could have had a very different outcome," Stele explained.
Meanwhile, he says the car is being removed from the side of the building on McCallum Road. He adds police are "in contact with the business."
"At the scene, we are dealing with substantial damage to the business. It sheared some plumbing it seems and caused some local minor flooding in the parkade area of the business," Stele said.