Retired Canadian senator shares his 'unlikely insider' perspective in new memoir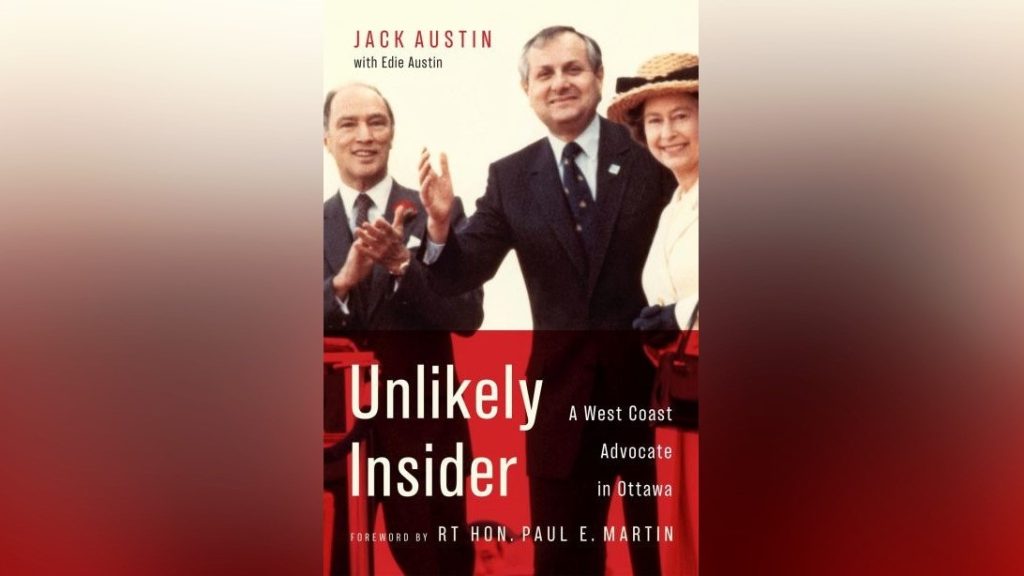 Posted March 12, 2023 9:53 am.
Last Updated March 12, 2023 9:57 am.
Jack Austin was B.C.'s man in Ottawa for decades, serving in the cabinets of Pierre Trudeau and later Paul Martin while also representing the west coast in the Senate. Now, at the age of 91, he is adding author to his list of considerable achievements. Unlikely Insider: A West Coast Advocate in Ottawa is a fascinating survey of a unique life dedicated to public service.
Unlikely Insider was one of several possible titles he brainstormed with his daughter and co-author Edie, who is also the long-time editorial page editor at the Montreal Gazette.
"We weighed about 12 or 15 different titles, but this one just stuck out," he said. "How was it that somebody who was a grocer's son ends up being in two federal cabinets and never was elected? How likely is that?"
Austin admitted the book almost happened without him.
"I said to Edie, 'I don't know whether I want to put time into writing a book looking backwards. I've got lots of forward-looking things to do, lots of challenges ahead of me that are fun, more fun than maybe writing about it,' but Edie was persistent," he said.
"So finally, Edie started without me and then I decided I better catch up!"
Austin, a lawyer by trade, began his work in the public service as a special assistant to then-Vancouver South MP Arthur Laing during his time as minister of Northern Affairs and Natural Resources. He was then asked to serve on the legal team that negotiated the Columbia River Treaty with the United States. He later served as principal secretary (or chief of staff) to Prime Minister Pierre Trudeau.
The prime minister's swimming pool
One of the highlights of the book is when Austin explains how he successfully talked Trudeau out of using taxpayer dollars to install a swimming pool at 24 Sussex Drive, the official residence of the prime minister.
"He was a swimmer and he was using the pool at the Chateau Laurier Hotel and security had to clear everybody out and give him an hour where nobody else could use the pool when he was there. And there were complaints," he explained.
"Pierre said, 'In any event, I should have a swimming pool, every prime minister should be able to swim for exercise at 24 Sussex.' Then the question was, well, who should pay for it? And I was, for political reasons, adamantly against the government paying for it.
"The result was that there were private donations raised by some of his friends to build the swimming pool. It was never paid for by the federal taxpayer," Austin said.
"But I refused to let him or me know who those people were because I didn't want the accusation that we could be influenced to do things for them. It turned out to be the right way to go."
Austin is unhappy the residence has been allowed to fall into the state of disrepair it is in today.
"It's such a foolish game," he said. "That is public property. Every country in the world has a residence for their political leader and the accusation that all we're doing is spending public money for private purposes is just nonsense. So, the house is falling down, and no prime minister wants to use it. No prime minister wants to direct the public service to repair it."
After serving as his chief of staff, Trudeau would then appoint Austin to the Senate in 1975 where he would remain until his retirement in 2007. The pair also travelled together extensively after the prime minister left office in 1984. The stories of those travels could almost be a separate book.
"I watched this man with fascination. He was an incredibly interesting personality," Austin said.
Federal minister for Expo 86
Another example of Austin successfully lobbying Trudeau was in the early 1980s when the future of Expo 86, Vancouver's World's Fair, seemed in doubt.
"[Then B.C.] Premier Bill Bennett told me, without a certain level of federal participation, he couldn't afford it," he said.
"In '80, '81, '82, B.C. was in an economic depression, one of the most difficult economic cases in Canada at that time. And Bennett was facing an election in 1983. So, he was cornered."
Austin had some work to do as well, as his cabinet colleagues pointed out B.C. had failed to elect a single Liberal MP to the House of Commons in the 1980 election.
"As I say in the book, I went to the prime minister and said to him, 'There's no Liberal Party [in B.C.] if it is so obvious that we don't care about British Columbia that we don't carry out our role in this important pump-priming project.' We had a huge debate in Cabinet, but he didn't call the decision. And I suddenly realized that I had a chance to talk to him personally. He didn't tell me where he stood after the discussion, but at the next Priorities and Planning meeting, when the item came up, he simply said, 'I've looked at this issue, and I've decided to go forward, and Jack will be the federal minister for Expo 86 and we'll see what he can do."
---
---
The Trudeau government contributed $134 million to the effort, resulting in Canada Place, a convention centre, and cruise ship terminal, which served as the Canada Pavilion during Expo. This was on top of the $60 million Ottawa contributed to the original SkyTrain rapid transit project, now known as the Expo Line.
Austin says Canada Place, with its famous roof made of five white Teflon-coated sails, remains a proud symbol of federal-provincial cooperation.
"One of our objectives was to create a project where people could actually come into the Inner Harbor, walk around the Canada Place, see it, and also create an iconic image for Vancouver, something like Sydney and the famous opera house there. It was a brilliant project."
On China and foreign interference
Expo 86 would serve as a coming out party for Vancouver to foreign investment, specifically from the Asia-Pacific region. One of Austin's principal achievements was fostering Canada's trading relationship with China, going back to 1970 when, as deputy minister of Energy, Mines, and Resources, he was a part of Ottawa's first trade mission to Beijing. As head of the Canada-China Business Council, he was also a member of Prime Minister Jean Chretien's Team Canada trade mission to China in the 1990s.
Despite Canada's strained diplomatic relations with China currently, Austin points out business between our two countries continues to grow.
"We just exceeded $100 billion in two-way trade. Canada sells $30 billion to China. It's not insignificant, particularly to western Canada," he said.
This week, Prime Minister Justin Trudeau announced his government would appoint a special rapporteur with a wide mandate to investigate foreign interference following recent media reports. He sold it as a way to remove partisan politics from the public debate.
---
---
When asked about foreign interference in Canadian elections, Austin said he was unsure what a public inquiry would achieve, other than to score points for the Opposition.
"As I'm concerned, it's nothing but a political façade. And it points to more difficulties in resolving China. What people have to understand is China has been the motor of the global economy for quite a few years. If China's economy is slowed by sanctions, we pay a huge price."
Austin argued China isn't alone in trying to influence the politics of other countries. It's just more obvious about it.
"All countries, particularly countries that see themselves as powers, do everything they can to influence global events in their favor," he explained.
"It's an international game. We have to have a big perspective to understand what's going on."
Unlikely Insider: A West Coast Advocate in Ottawa by Jack Austin with Edie Austin is available from McGill-Queen's University Press.
With files from the Canadian Press