Is B.C. doing enough to tool-up small communities to fend off wildfires?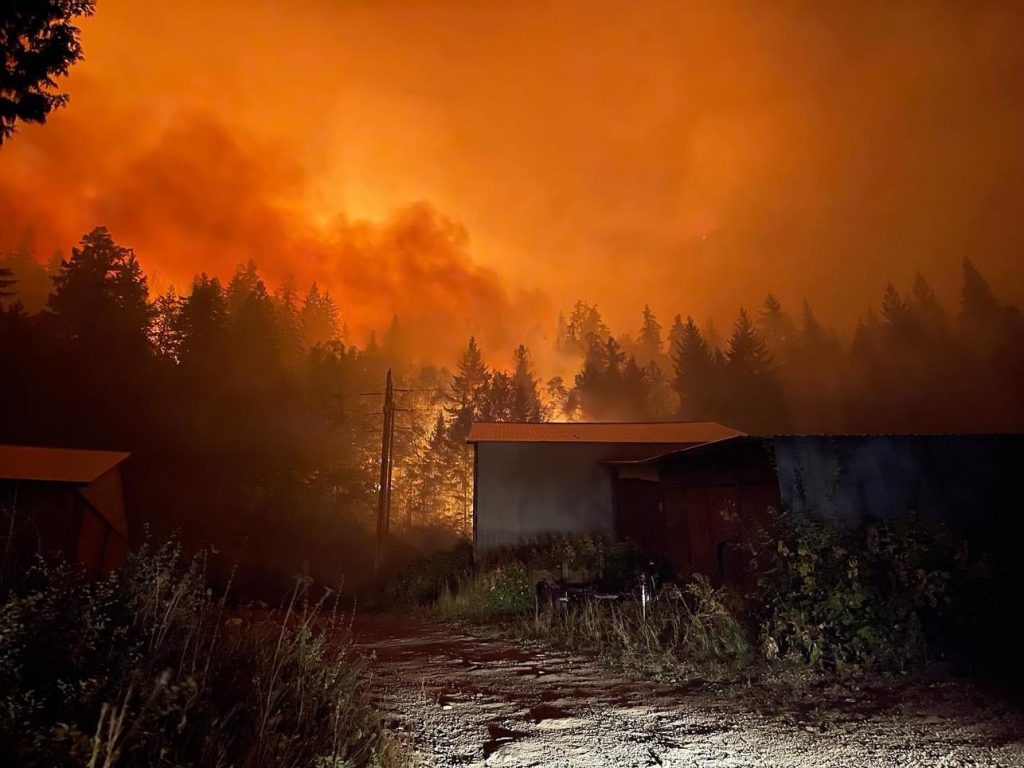 Posted August 24, 2023 7:32 am.
Last Updated August 26, 2023 1:16 pm.
A massive wildfire in B.C.'s Shuswap region remains the top priority for provincial crews fighting to protect properties.
The area has seen 15 to 20 millimetres of rain and another 150 firefighters were due to arrive at the Bush Creek East fire Thursday as it remained out of control, covering 410 square kilometres, part of the larger Adams Lake Fire Complex.
As the Bush Creek East fire spread rapidly last week, the BC Wildfire Service described it as one of the most significant fire events ever witnessed in B.C., and one expert says the province should be doing more to help mitigate the risk of megafires like this.
---
Related Articles:
Sarah Dickson-Hoyle is a post-doctoral research fellow at the UBC Faculty of Forestry who has tracked the provincial government's response to a report following the devastating Okanagan Mountain wildfire in 2003.
"That report came after similarly devastating fires in Kelowna. Key to those recommendations were improving coordination among fire and emergency management agencies and also greater investment in proactive mitigation.
"Since then, there has been investment from the province, for example, for fuels treatment and reducing risks around communities, supporting them in becoming 'fire smart' with community wildfire plans, but really we are not seeing the scale of investment needed," she told CityNews.
"Compared to the billions of dollars for suppression, there's been less than $100 million over the last few years for mitigation. We're just not seeing enough investment."
Dickson-Hoyle says that has left many communities without the capacity or resources to properly identify risk and develop wildfire mitigation measures, including reducing the build-up of hazardous fuels on forest floors which can cost from $6,000 to $30,000 per hectare.
"Once again, we are seeing these small, rural, and remote communities being disproportionately impacted by these megafires."
---
---
A 2018 report also made recommendations the provincial government work more closely with local First Nations Knowledge Keepers in wildfire and other disaster management.
"We are hearing that in the Shuswap at the moment, that residents feel they are abandoned, they're feeling like their offers of support aren't being taken up.
"The key recommendation from the Abbot-Chapman report was true partnerships with First Nations and to support local communities in contributing to fire response within their community."
Dickson-Hoyle would like to see the provincial government scale up the pace of investment in proactive wildfire mitigation, not just suppression.
"I would also emphasize the need to be working in collaboration with local communities and First Nations, and to develop long-term, strategic recovery plans that prioritize restoration, not just short-term rehabilitation."
Otherwise, she worries about the impacts of more intense wildfire seasons on B.C.
"We are already hearing reports of people considering moving from their hometowns, so we could see rapid demographic shifts. In terms of our forests and landscapes, when we have these hot, intense megafires burning, we may see transitions from forests to grasslands. maybe these ecosystems won't be recovering and the landscapes will look very different from those we grew up in, that we value and recreate in."
Wildfires and smoky skies are expected to continue to be a constant in B.C.'s future summers due to the human-caused climate crisis.
-With files from Kier Junos and The Canadian Press