Dueling prime ministers: A new book recasts the era-defining Diefenbaker-Pearson rivalry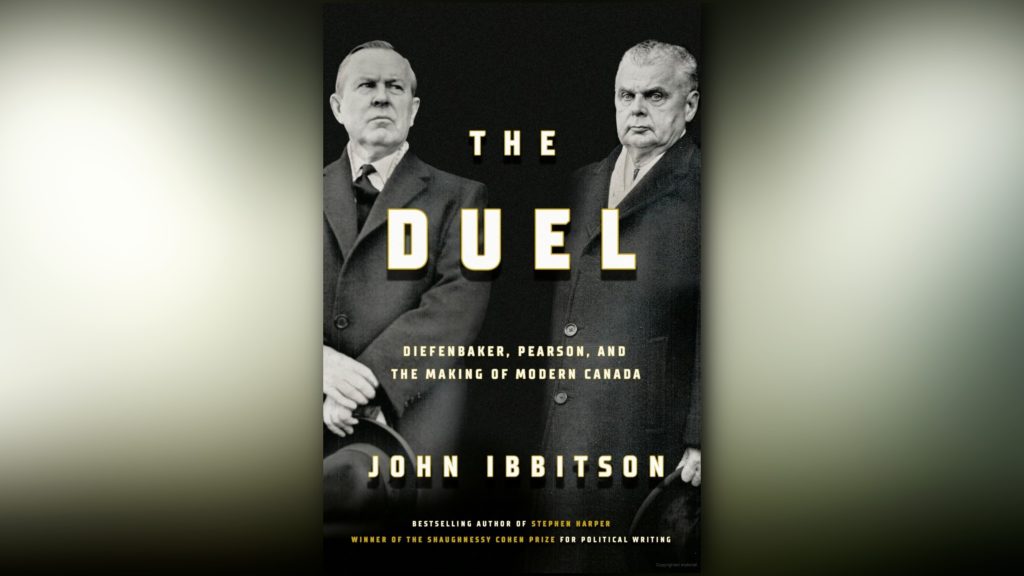 Posted October 21, 2023 7:50 pm.
Last Updated November 10, 2023 1:35 pm.
"To understand our times, we must first understand theirs." So begins a new book about a tumultuous and transformative era in Canadian history. The Duel: Diefenbaker, Pearson, and The Making of Modern Canada looks at the epic battles between Conservative Prime Minister John Diefenbaker and his Liberal successor Lester B. Pearson.
"This was the biggest political rivalry in the history of the country," explained author John Ibbitson. "Two leaders, over four elections, 10 years, fighting it out for power, for control, and coming to despise each other in the process until the country itself became rather sick of it."
The two did get along at one time — back when Pearson was external affairs minister and Diefenbaker was the Opposition critic. But it wouldn't last.
"Well, I mean, part of it was inevitable," said Ibbitson. "If you had a leader of the Conservative Party and the leader of the Liberal Party, both in there in that position for a decade through four elections, they're not going to be the best friends at the end it."
Each came from humble beginnings. Pearson was the son of a preacher, Diefenbaker the son of a teacher. Pearson would become the likable, athletic history professor turned diplomat. Diefenbaker would make his name as a small-town defence lawyer "representing little people caught in the maw of the justice system." But their respective positions would put them on a collision course that would change the country forever.
Their first faceoff in the polls came during the 1958 election, after Diefenbaker defeated Prime Minister Louis St. Laurent the previous year.
That vote remains the greatest electoral landslide in Canadian history. Diefenbaker's Tories received 54 per cent of the popular vote which translated to 78 per cent of the seats in the House of Commons.
Ibbitson says the country is still living with the consequences of the `58 election today.
"Prior to that, the West had been largely Liberal territory," he explained. "But there was an increasing disaffection among Western farmers, and among Westerners in general, towards the Liberals who they thought were taking the West for granted."
"John Diefenbaker came out of the West as a populist, already famous as a crusading defence attorney before he entered the House. And he embodied that sense of 'This is our time; this is our place, and now we are going to speak with our own voice.'"
Ibbitson says that led to a crushing defeat for the Liberals in Western Canada which, with rare exceptions like the Lower Mainland, has become permanent.
Much has been written about the Diefenbaker years, most famously in books like Peter C. Newman's Renegade in Power and Rogue Tory by Denis Smith. But Ibbitson feels both are guilty of "[letting] the foibles of the man obscure the accomplishments of his governments."
"Those two books are very fine books, but they paint a certain picture of John Diefenbaker as an erratic, temperamental, unpredictable, [and] in some ways, incompetent prime minister," he said.
Ibbitson says he wrote The Duel to challenge that narrative.
"As a journalist, I kept coming across innovations, changes, reforms that happened on Diefenbaker's watch. And it occurred to me that maybe we need to rethink, maybe we need to take a second look at the Diefenbaker years and if we did take that look, we might find something quite different."
Ibbitson argues that, despite their enmity for each other, Diefenbaker and Pearson ushered in Canada's modern age, with one continuing the work of the other. For instance, national Medicare was first floated under Diefenbaker and then realized under Pearson.
John-Ackermann-sits-down-with-John-Ibbitson-author-of-The-Duel-1
"That's what I mean when I say that the two of them, in essence almost govern together in spite of their tremendous rivalry," he said.
Ibbitson also cites ending immigration restrictions based on race, skin colour, and country of origin among Diefenbaker's accomplishments. The enfranchising of First Nations also happened under his watch, as did the establishment of Canada's first Bill of Rights, a key precursor of the 1982 Constitution Act.
Pearson would force Diefenbaker out of office in the 1963 election, a defeat that almost came as a relief. As Ibbitson observes in the book, "[Diefenbaker] was probably happier in Opposition than in government – attacking them for their missteps rather than constantly having to explain his own."
One of the greatest battles between Diefenbaker and Pearson culminated in Canada adopting the Maple Leaf as our national flag in 1965.
"For Diefenbaker, a flag without the Union Jack was a desecration and he fought endlessly, relentlessly, to prevent the Maple Leaf flag from becoming Canada's flag," Ibbitson explained. "He failed, and as I said in the book, he deserved to fail. And it showed how, in the end, Diefenbaker could not look forward to the future. He could only look backward to the past."
Pearson, a former diplomat who won the Nobel Peace Prize for his role in resolving the 1956 Suez Canal Crisis, had come to realize Canada needed to develop its own national self-identity apart from Britain. The Maple Leaf was a logical extension of that thinking.
As Ibbitson observes in the book, the Flag Debate showed "the single greatest difference between Lester Bowles Pearson and John George Diefenbaker was their ability to grow." Pearson could, Diefenbaker couldn't.
The Duel ends in 1967, Canada's centennial year, when Diefenbaker is forced out as leader of the Conservative Party. Pearson would resign the leadership of the Liberals the following year, triggering a race that would be won by Pierre Trudeau, his former justice minister.
Ibbitson says his other goal for the book was simply to tell a good story. And he most certainly has.
"It wasn't just a political fight," he said. "Despite the storms and the tempests, Diefenbaker and Pearson forged the collective welfare state we enjoy today. They gave birth to the modern Canada."
He says there are lessons here for our current crop of politicians – one in particular.
"Many people worry populism is becoming a more polarizing force, a force based more on pure resentment, perhaps a force that seeks to tear down rather than to build up," Ibbitson explained.
"If Pierre Poilievre does become prime minister, and if he becomes a populist prime minister, I hope he remembers his predecessor John Diefenbaker, and remembers that what Diefenbaker always sought was not to destroy but only to build."
The Duel: Diefenbaker, Pearson, and the Making of Modern Canada is published by Signal Books.