Port Coquitlam bear video prompts wildlife safety reminders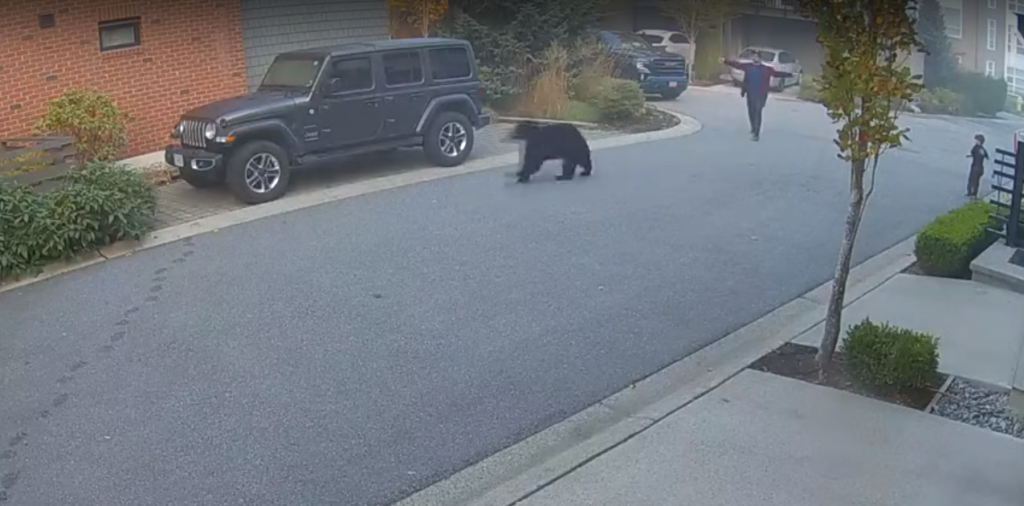 Posted October 24, 2023 3:57 pm.
A wildlife expert is reminding people — like the individuals seen in a video being shared widely on social media — to stay calm and know what to do if they encounter a bear.
Footage captured at a townhouse complex in Port Coquitlam shows a bear walk out from behind a vehicle and approach a child on a scooter.
The bear is seen rushing the child and stopping just a few metres away before a pick-up truck pulls up and a man gets out.
The driver of the truck scares the bear away, calmly walking toward the animal with his arms raised, likely in an effort to make himself look bigger.
"No doubt that was a very scary experience for that child and also for the bystander," Kathy Murray, provincial support with WildSafeBC, said in an interview with CityNews.
The BC Conservation Officer Service says it's aware of the video on social media, adding, "We understand bear activity in neighbourhoods can cause concern to area residents."
The agency could not confirm reports that the footage was taken on Oct. 1, saying it does not have it in its records.
"Conservation Officers are continuing to provide public outreach and education in the region, including the Fremont area of Port Coquitlam, as part of ongoing efforts around the importance of attractant management," the BCCOS said in an email to CityNews.
"Conservation Officers are monitoring bear activity and will respond as necessary to ensure public safety."
'Be prepared and expect to encounter bears': WildSafeBC
Murray says it's not uncommon to see bears in populated areas this time of year.
"No matter where you are in B.C. — B.C. is bear country — we need to all make sure that our wildlife stays wild, and that our communities stay safe," she explained.
"Bears this time of year, they're in hyperphagia, and that means that they are looking to fatten up and consume up to 30,000 calories a day before going into hibernation. So they're looking for food."
WildSafeBC and the Conservation Officer Service are reminding locals to ensure attractants — like garbage, pet food, fruit on trees, and Halloween pumpkins — are secured and that you are doing your part to not encourage animals to come near in search of food. People are also reminded to keep pets leashed, travel in groups, and carry bear spray.
"I think even walking around town or trails or parks, be prepared and expect to encounter bears," said Murray.
If you do encounter a bear, she stresses it's important to stop and stay calm.
"Speak to the bear in a calm voice, let the bear know you're not human and not prey, and back away slowly. Give the bear some space. Remember, bears protect three things: their food, their space, and their young," she added. "Backing away will give the bear the message that you're not a threat, and again, never approach and never feed wildlife."
The BC Conservation Officer Service is encouraging people to report bear encounters and conflicts in urban spaces to the Report All Poachers and Polluters hotline at 1-877-952-7277.
"Accurate and timely reports can help Conservation Officers determine the best course of action," the agency says.