Loose barge in English Bay has close call with shore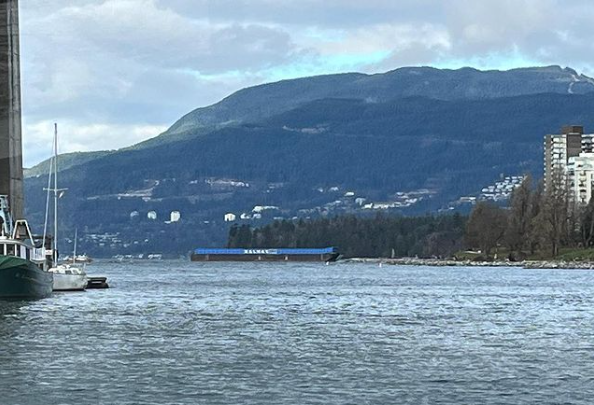 Posted November 19, 2023 2:02 pm.
Last Updated November 19, 2023 2:38 pm.
Another barge broke loose in English Bay Sunday, according to the Canadian Coast Guard.
The service says it received a report around 12:10 p.m. of a large blue barge that had broken loose from its mooring buoy and was drifting towards the inukshuk statue along the seawall in Vancouver's English Bay.
It adds crews from its Kitsilano base responded aboard the Laredo Sound. The coast guard then tied onto the barge and tried to hold it off from grounding at Sunset Beach. A second coast guard vessel was also used to push the barge from its stern.
Coast guard vessels successfully held the barge off the beach for about 30 minutes, until the Seaspan tug Cates VIII arrived to tow it away.
CityNews confirmed the barge was an empty gravel barge.
It has since been re-secured to another mooring buoy in Vancouver Harbour, the coast guard told CityNews.
This comes nearly exactly two years after a different barge broke free of its mooring during a wind storm and beached itself in English Bay.