Metro Vancouver stresses water conservation, reveals how long you should shower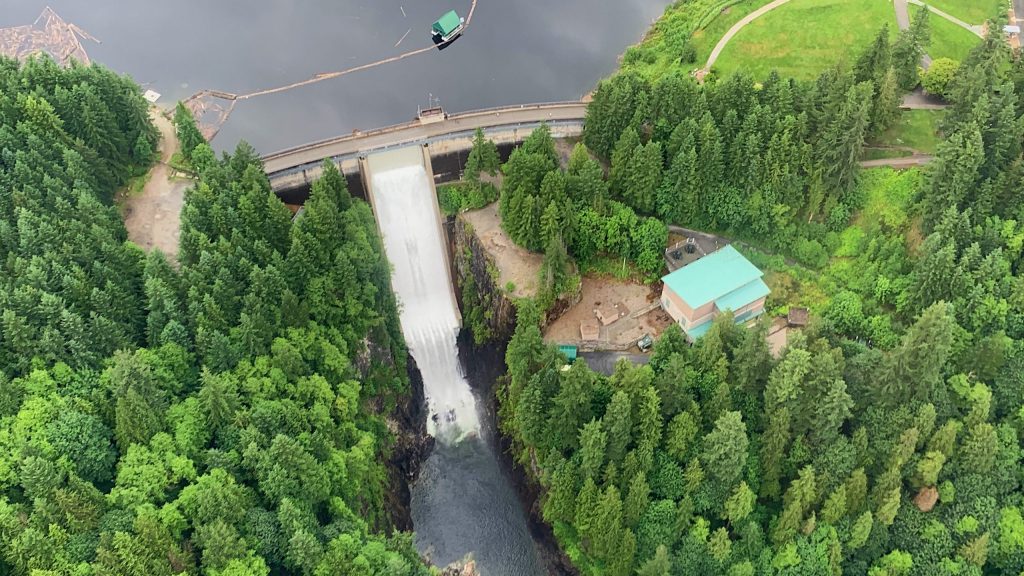 Posted June 9, 2022 7:28 am.
Last Updated June 9, 2022 6:51 pm.
Despite all the rain in the forecast, the Metro Vancouver regional district says now is not the time for people to become complacent about how much water they use.
The regional authority is asking everyone, collectively, to really ease up on their usage, especially with warmer summer temperatures around the corner, which is when demand typically increases.
Water reservoir levels at Seymour, Capilano, and in Coquitlam are nearly full right now, says Inder Singh, Metro Vancouver's director of Interagency Projects and Quality Control Division with Water Services, who adds we also have a very healthy snowpack this year.
However, given how quickly things changed last summer during the record-breaking heat dome, Singh admits they keep a close eye on supply.
"We always want to be aware of extensive temperatures and also longer durations of drought that could easily carry into the fall," he explained.
You may think because we have enough water right now, you can use as much as you like. However, Singh warns that's not the case.
"Our drinking water is not only used for irrigation, but we need it for cooking, cleaning, dishwashing, showering, and everything else indoors as well. We do receive lots of precipitation being in a rainforest, but those periods of rainfall occur from October through to about March or April. Yes, this May has been very atypical and therefore the complacency issue is definitely there," Singh told CityNews.
He adds the last time we had an extensive drought period was 2015, when things dried up from the beginning of May to the end of August and severe restrictions were brought in.
---
Related articles: 
---
Singh admits climate change is severely complicating our future and after doing a 100-year outlook for this region, he says every drop really counts.
"We are blessed with a region that has an extensive rainfall, but again, it's a period of time during the fall and wintertime when the demands are naturally quite low and when we all need to use water with demands in the summertime peak quite significantly. They go up by as much as 50 per cent or higher routinely and if you go back to last year's heat dome effect, we had about an 80 per cent increase over the normal averages. So, it was close to 1.8 billion litres of water that we consumed during the peak period, when typically, in the wintertime, we would use closer to 1 billion litres per day on average."
Water conservation a collective responsibility
He warns if the region, collectively, doesn't start easing up on usage, things could become dire.
"That's why we have the various rules and requirements that are designed to ensure that we sustain our resources as practically as possible while minimizing the amount of hardship we obviously might create in terms of any restrictions," Singh explained. "At the same time, we're also looking at the fact there's growth in the region. We're receiving about 35,000 people per year, either growing within the region or coming in from external areas and those population increases also need to be sustained in the long-term."
Singh says there are extensive preparations and policies that have been and will continue to be implemented to protect water levels. That includes plans to expand reservoirs to keep up with future demand.
"But in the meantime, we obviously want to make the best use of our current resources the most sustainably," he added.
However, future plans will take time to develop, with Singh noting "these mitigation measures and overall positive benefit will not be realized for decades to come."
The regional district is imploring people to do what they can in the name of water conservation.
"The climate change crisis that we currently have did not transpire overnight and therefore it's not going to be resolved overnight. But having the right policies in place now will put us in a much better position so our future generations will have a much better environment to be living in," said Singh.
How long should you shower for? 
As you're being asked to watch how much water you use, Singh says taking short showers is really helpful.
"It depends on what your definition of people is, whether it's a young teenager in your home or whether it's somebody who is a bit more rationale when it comes to their water use, but typically speaking, a shower can be easily done within three-to-four minutes. To get the job done, I would say a four-minute shower is more than adequate," he told CityNews.
Some people are already embracing the habit of short showers. Others say their times are a little more moderate.
4 mins

— Uli Laue (@ulilaue) June 9, 2022
Depends, before work getting ready, 5 min. If I'm relaxing and need to unwind, 15-20

— canucklehead (@canucklehead343) June 8, 2022
5-10 min on weekdays. 15-25 min on weekends. Overall a vast improvement from the 45 min ones I'd take as a teenager.

— Kathleen Jensen (@KathleenElaine5) June 9, 2022
Some nameless people in the Rogers Radio building in Vancouver have said they take 15 minutes in the showers, while others admitted to 45 minutes.
And then there are those who simply can't seem to get out of the shower.
"I have three showers a day, all plus-three minutes because I like to be clean. I have one when I wake up, one when I get home from work and one before bed. Don't judge me. I grew up in a shower-restricted house. Three minutes and my dad would start banging on the door, 'Get out!'" said one radio host.
This colleague, who's a mother of two small children, says it's her escape.
"This is my downtime. This is where I come to centre myself. I meditate to the sound of shower, and this is important and I'm not joking when I say it — it's a part of your mental health. There's a serene thing in there and this is where shower thoughts come to you too. Little, brilliant pieces of information that don't come to you in the hustle-bustle of life," she explained.
Others take issue with the three-to-four-minute recommendation.
"That's really cute. That's really funny. That's a birdbath. That's not a shower. If we took three-minute showers we would all be really, really stinky and probably really hairy," said another co-worker.
Meanwhile, another employee took things to an emotional level.
"I take somewhere between 7-10 minutes. I got no hair, so it's pretty easy and I, generally, like to re-live every embarrassing moment I've had in my life so when the tears start to come, I get out."
Singh says he's not telling people to restrict usage beyond their normal practices to the point they're uncomfortable, but he is asking you to be mindful. He doesn't suggest you re-use water because it may not be safe or healthy.