Air Canada passenger says trip was ruined, could wait 45 days for explanation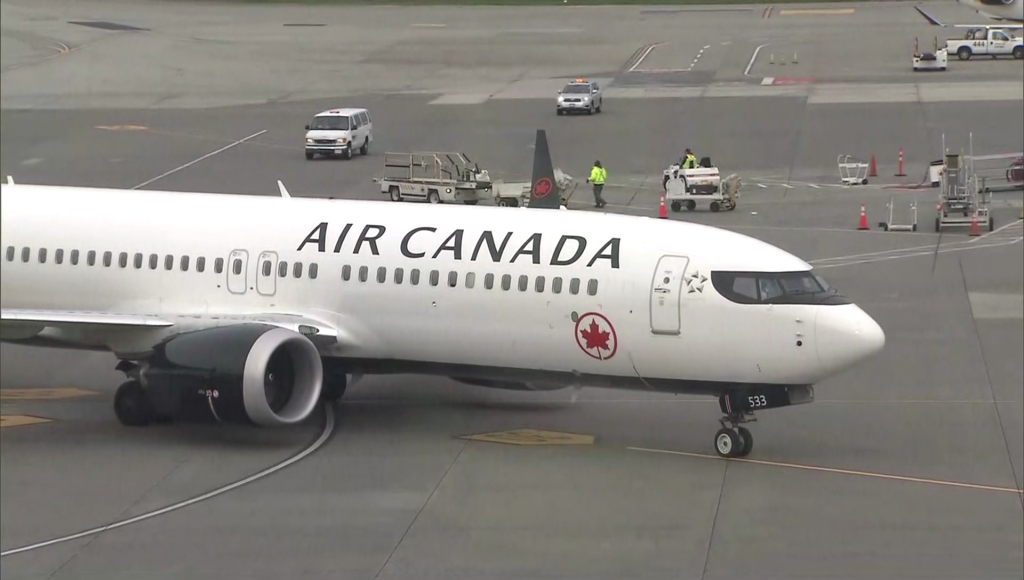 Posted June 21, 2023 7:15 am.
Last Updated June 21, 2023 12:35 pm.
An Air Canada passenger who says he had the trip of a lifetime ruined by the airline is waiting for an explanation — something he says could take another month-and-a-half to happen.
Author Dan Gardner and his son were headed from Ottawa to London last Friday on what he says was supposed to be a very special trip, including shooting a show with legendary comedian John Cleese.
"We were checked in, long in advance, we made our connecting flight to Toronto, long in advance, we had our boarding pass and the flight was boarding," Gardner told CityNews.
Home news: I just had the trip of a lifetime ruined by Air Canada. I was to do a TV show with the legendary John Cleese. Scrubbed. I was to see London with my son. Scrubbed. Why? Air Canada bumped up us as we were boarding. No explanation. No help. Unreachable reservations line.

— Dan Gardner (@dgardner) June 18, 2023
"When we got to the front to have our boarding passes scanned, they said you have to go speak with that person, who told us to go speak with customer service. Basically, we were never given an explanation for what happened, but we were bumped."
Gardner says he waited in a very long line to speak with an Air Canada customer service representative, believing he could rebook the flight.
"After three hours, customer service said we can't rebook you — in fact, we can't give you a hotel, we can't give you a voucher, we can't do anything for you, including giving you information. All we can do is tell you you have to call Air Canada reservations."
Gardner says he tried, but waited another three hours on hold — nobody ever answered.
"As a result, we were stranded in Pearson Airport in Toronto. We couldn't rebook to go forward to England, so we said we have no choice but to go home."
He and his son then took the train back to Ottawa, at their own expense, before filing a complaint with the airline on Monday.
"I wrote this all out in tedious detail and submitted it to Air Canada and, of course, I got an automated response, because that is the only kind of response you can get from Air Canada. It was actually kind of funny. In essence, it said due to the high volume of complaints they were receiving, they won't be able to get back to me for another 45 days."
---
Related Articles:
Gardner also posted about his frustrations on social media, getting a huge response.
"That's what is so telling about this. I don't want to claim my story is a tale of woe and tragedy — it's not. But if you look at the thread, the responses to my tweet, people left a lot of their stories there and so many of them are heartbreaking, they're awful stories. People were badly damaged by Air Canada's callousness."
Gardner says he also heard from many people in the midnight lineup for Air Canada customer service who he felt had been "screwed over" with little recourse.
"My son and I had the resources to get back to Ottawa and sort this out later, but some people don't. If you put your money into an airline ticket and entrust yourself to Air Canada, they can't abandon people, and that's exactly what they are doing — abandoning people."
An air passenger rights advocate says it is unacceptable Air Canada may not respond to Gardner's complaint for 45 days.
"That is more than the permissible time for providing a response under the Air Passenger Protection Regulations," said Gabor Lukacs, founder of Air Passenger Rights. "Air Canada should be responding within 30 days, that is a no-brainer, with a clear explanation."
Air Canada reservations – an actual person on the phone! – assured me our return flights were cancelled so it wouldn't look as if we hadn't shown up. Now I'm getting text messages telling me to board at Heathrow. Can't wait for @aircanada to deny my claim because I didn't show.

— Dan Gardner (@dgardner) June 21, 2023
But Lukacs isn't surprised the airline could take so long to respond, believing there won't be change until Air Canada faces tougher consequences for not following the rules.
In a statement to CityNews Wednesday morning, Air Canada says it is "investigating this regrettable situation."
"We will be reaching out to the customer directly to address his concerns," it continued.
Gardner hopes change will come as more people come forward with their frustrations with customer service.
"I agreed to speak to the media because there were so many people contacting me with their own horror stories. Please understand that … I'm not speaking for just myself, I'm speaking for a heck of a lot of Canadians," he said.
"I'm going to keep pushing. I want an explanation, I want to understand why they did what they did and then I expect appropriate compensation. I'm hoping that if I kick up enough fuss I will get that, but maybe — even more than that — maybe Air Canada will start to become just a little bit more sensitive to the fact they are really hurting Canadians with their callous attitude toward customer service."
–With files from Kurtis Doering and Greg Bowman