Almost 80 evacuation orders, alerts across B.C. as wildfires burn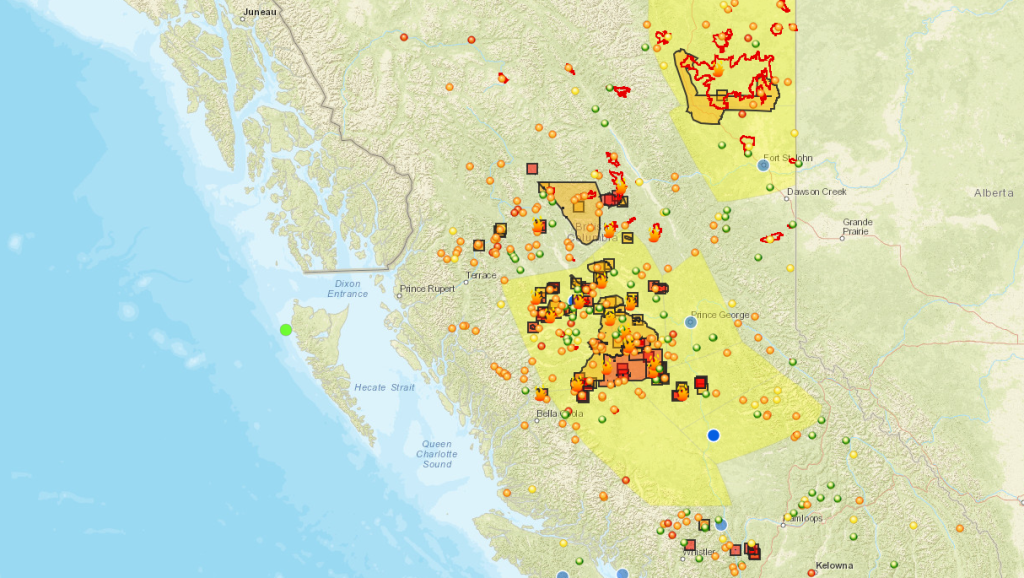 Posted July 16, 2023 9:55 am.
Last Updated July 16, 2023 10:03 am.
More British Columbians are waking up Sunday morning to evacuation orders and alerts, as wildfires across the province gain ground.
As of 9 a.m., almost 80 wildfire-evacuation alerts and orders are in place, with most centered in the Cariboo and Bulkley-Nechako regions of the central Interior.
More than 370 fires are now burning, up from 360 on Saturday. The province is also now seeing 24 "wildfires of note" — one that is highly visible and could pose a threat to public safety. On Friday, there were 17 of note.
The new wildfires come as the province sees persistent drought conditions.
Bowinn Ma, B.C.'s minister of emergency management and climate readiness, says federal personnel will work alongside about 2,000 crew members with the BC Wildfire Service.
Canada's minister of emergency preparedness, Bill Blair, announced the assistance on Friday after his counterpart in B.C. made the request.
A special air quality statement from Environment Canada warns of smoky skies spanning much of eastern B.C. from the Yukon boundary to the Kootenays.
---
Related Articles:
The Regional District of Bulkley-Nechako issued two evacuation orders Saturday covering properties on the northeast shore of Elwin Lake, east of Houston, as well as properties west of Wisteria Mainline Road near Horseshoe and Fish Lakes.
The Cariboo Regional District meanwhile upgraded an evacuation alert to an order Friday afternoon. The order covers 135 parcels of land across nearly 3,340 square kilometres in the Lhoosk'uz area, west of Quesnel.
B.C.'s drought bulletin shows nearly the whole province is experiencing drought conditions of at least Level 3 of five, with the Fort Nelson basin in the northeast, the Bulkley basin and all of Vancouver Island classified at the most severe level.
–With files from The Canadian Press